The right battery for your industrial trucks and how to best charge forklifts
Support from electric vehicles such as forklifts, pallet trucks, industrial trucks, etc. has become indispensable in the industry. Battery power has many advantages – which, however, can only be fully exploited with the "right" battery. Find out what advantages lithium and wireless power for charging forklifts has.
Which battery it is depends on the demands you have on your forklift and the associated batteries.
The term "battery" is actually somewhat misleading. Because this usually means conventional lead-acid batteries. A lead-acid battery works according to a proven but complex system. This is not only maintenance-intensive, but also harmful to the environment and clumsy. Due to their structure consisting of several plates, lead, sulfuric acid and distilled water, conventional batteries, depending on the requirements and area of application, can be heavy and of a suitable size. This makes them bulky and there are obstacles to charging or even changing the batteries.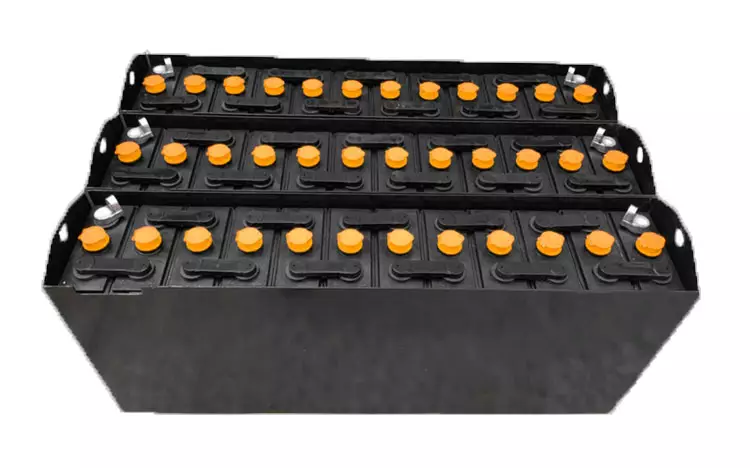 Care and maintenance of conventional lead-acid batteries
In addition, it is essential for a lead-acid battery that it can discharge itself according to its needs and also be recharged accordingly.
The battery should be charged at the latest before its energy status drops to 20 percent. It is important to avoid overloading, i.e. with too high voltage. In this way, the lifespan is not unnecessarily reduced.
Overloading can also provoke dangerous gassing (Oxyhydrogen is already highly explosive at a concentration of 4 percent!).
That means: In order to charge your forklifts, you need a locked and well-ventilated room with a suitable fleet size in a special forklift charging station. This allows your forklifts to charge undisturbed for several hours before they are ready for use again. Conventional lead-acid batteries are therefore particularly suitable for 1-shift operation or where there is sufficient time to charge, change and maintain the truck battery. The trouble: Charging time is non-value added time and the vehicle or the battery is not productive at this time.
Lithium-ion technology: the alternative to charge forklifts
You cannot or do not want to meet the high demands placed on charging a lead-acid stacker battery? Then you will probably find a profitable alternative in lithium-ion technology.
Batteries based on this technology, have a higher energy density, a longer life cycle and are significantly less maintenance than conventional batteries. The biggest advantage, however, is that they have much shorter loading times and can be temporarily charged during operation. Something that is possible with a lead-acid battery, but you should definitely avoid it if you don't want to shorten the lifespan of your truck battery rapidly.
In addition, lithium-ion batteries and their chargers are much more space-saving. An inductive charging station can be set up wherever it is needed. An additional space for maintenance and storage is eliminated, as is an expensive ventilation system.
In addition to charging with wired chargers, there is also the option of charging your truck with electromagnetic induction. This also enables in-process-charging, i.e. intermediate charging during operation. For example, during a work break or when the vehicle is being loaded or unloaded. And all that without the hassle of plugging and unplugging prone plugs.
So you are able to increase your vehicle availability by up to 30 percent: Space-consuming charging areas and long charging times, during which the forklifts are not available, are eliminated.
How does inductive charging work?
With inductive charging, electrical energy is transferred via a magnetic field. Wiferion is the manufacturer of the etaLINK contactless charging system for industrial electric vehicles: etaLINK consists of a wallbox that is connected to a stationary charging pad. With the help of the mains current, it generates a resonant alternating field.
This field induces a high-frequency alternating current in the coil of the mobile pad that is connected to the forklift. The charging unit processes the generated electricity and passes it on to the batteries.
This inductive system with lithium batteries is many times more compact than the energy system of conventional lead-acid batteries: the dimensions are comparatively small. The etaTRAY system can even be installed as a retrofit in the battery trough of older vehicles. That even completely independent of the manufacturer, no matter if STILL, Linde etc.
So you can use the latest technology of industrial electromobility with your existing vehicle fleet.
The advantages of inductive charging are obvious
The changeover is worthwhile: If the driver (or the autonomous AGV itself) drives on the wireless charging pad, the charging process starts fully automatically within one second. Thanks to inductive charging, without the need for a manual connection between the electrical components.
The inductive charging process can be built into your work process at any time. Intermediate opportunity charging, which must be prevented with lead-acid batteries, is not only allowed with our system, but expressly desired. In this way, you guarantee a smooth workflow and permanent use of your industrial trucks, even in 3-shift operation. Every day, around the clock.
The fact that you can charge your forklifts without a forklift charging station during the work process not only saves you costs, it also saves a lot of space: special rooms for the service and charge forklifts are no longer required. Just like charging cables and other potentially dangerous wearing parts, which often have enormous repair costs during their lifetime due to violent damage.
etaLINK works equally for all your industrial trucks. It detects the required voltage of the respective vehicle and makes it available automatically. No matter whether 12 V, 24 V or 48 volts.
The charging current with our etaSTORE LTO batteries is five times higher than with conventional batteries. That means: after a ten-minute charge, you can drive 50 minutes at a time. If there are additional charge stops of two minutes in between, of course, the possible operating time adds up accordingly. This means the battery never runs out and your truck is theoretically available around the clock.
In this graphic you can see an average 3-shift operation with different battery systems and "opportunity charging" compared to "In-Process-Charging" with Wiferion. For lead-acid batteries, the minimum charge of 20% was taken into account in connection with the charging period and the change of trough during breaks / shift changes.
Safe and profitable
With a lithium-ion battery that is charged inductively, you switch off several safety and cost traps at once.
For example, a forklift that contains a lead-acid battery is always a higher safety risk. The potentially dangerous gassing that arises when the truck battery is charged. And quite apart from the weight, filled with lead and sulfuric acid that your employees handle every day.
You can charge your forklifts safely, wireless and fully automatically with Wiferion: the inductive charging system communicates with your vehicles. Our etaHUB cloud solution utilizes the energy data collected and helps you to optimize your work processes.
Maintenance can be planned long-term and low charging levels are a thing of the past. Fiddling with charging cables and replacing heavy battery troughs are no longer necessary in the work process.
Is your forklift reporting a low charge? Simply drive to any charging station – or your AGV will do it by itself – and the wireless charging process begins within 1 second. The integrated CAN interface transmits all the data you need for your fleet management. Your forklifts charge safely and save time. Just as needed for an optimized logistic loop.
Discover our Wiferion ecosystem to charge forklifts now
Further questions how to charge forklifts?
Do you have questions about loading a forklift or would you like an individual offer ? Simply use our contact form!