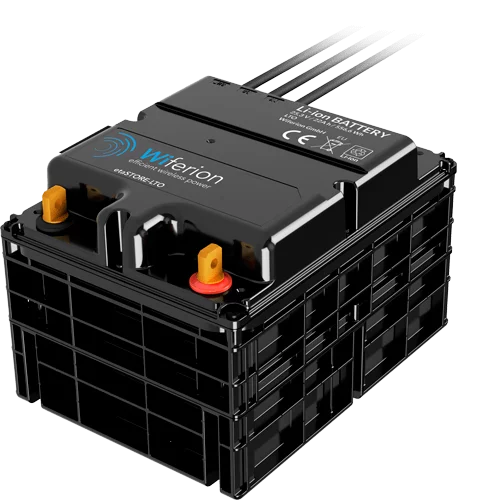 Lithium batteries for AGV (automated guided vehicles) & industrial trucks: etaSTORE
Lithium iron phosphate- & Lithium-titanate Batteries (LTO) for AGV, AMR & mobile robots
Batteries for industrial trucks, mobile robots and autonomous vehicles have very special requirements in terms of performance, lifespan and charging cycles, which is why high-quality lithium-ion batteries are important to avoid unnecessary costs. Knowledge of how to correctly charge the batteries is also important to ensure safety and maintain the functionality of the batteries for industrial trucks.
Lithium-ion batteries offer numerous advantages. They have a higher efficiency, a much higher energy density and a longer life cycle. They are also much less maintenance than lead acid batteries. Above all, it is possible to charge lithium-ion batteries during short breaks throughout operation with the etaLINK wireless charging system. This wireless in-process charging is essential for the complete automation of the logistics process, also for two or three working shifts.
The lithium battery technology for automated guided vehicles (AGV) have, in addition to the much longer operating time, lifespan and faster charging time, the recharge efficiency exceeds by far and you no longer have to be afraid of the batteries being completely discharged. In the medium term, such automated guided vehicle batteries are cheaper in contrast to the classic lead-acid batteries (SLAB).
Lithium-titanate batteries (LiFePO4 and LTO for AGV)
Wherever the highest demands are placed on endurance, special Li-ion batteries are required. The disadvantages of classic lead-acid batteries are:
Cleaning and greasing the battery poles
Checking the connections
Checking and filling up the battery water levels
Cleaning the chargers
They are completely eliminated with the Wiferion system solution, consisting of etaSTORE batteries and the etaLINK systems.
Lithium battery for high performance: etaSTORE
With the automated guided vehicle battery etaSTORE we rely entirely on lithium iron phosphate & lithium-titanate battery technology for AGV. It enables in-process charging, has long lifetimes, significantly simplified processes, battery management and lean infrastructures – and is therefore the most economical solution in logistics in the long term. The close cooperation among other things with Japanese battery cell manufacturers guarantees the outstanding longevity of the battery pack and energy storage, with highest temperature performance, best electrode material for the highest level of safety.
All batteries can be used modularly, have a BMS and meet the current applicable IEC standard 62619 for use in industrial applications as well as UL 2271 – so you can also use etaSTORE outdoors. etaSTORE from Wiferion delivers a operating voltage of 24 V and can be connected in series in pairs of two and at a multiple of that. Thereforey you are able to replace lead-acid batteries, like those used in many service robots, AGVs and electric-powered forklifts with the highest battery safety.

Better
Extremely long service life even at high charging rate

In-Process-Charging and high C-rates for fast charging and greater availability with smaller battery capacities

Low stand-by consumption and extremely low self-discharge rates

Simpler
Capacity can be scaled according to requirements

Real-time management of charging and discharging process for optimum battery use

Very compact

CAN-Bus connectivity for simple integration into your processes

Cheaper
Batteries have a service life of up to ten years, covering the entire lifespan of one or more vehicles

Batteries no longer have to be replaced midway through a process

No need for separate charging infrastructure or storage of spare batteries
Specifications of etaSTORE batteries
(only available in the EU)
eta

STORE LFP

Lithium iron phosphate – The ideal
solution for continuous use

Capacity (nominal)
21 Ah
Voltage (nominal)
25,6 V
Charge rate(C-rate)
bis zu 2C
Cycles
< 7500
Charge current
42A
Number of batteries
per system
max. 20
Communication system
CAN-BUS
IP-Protection
IP54
Size (W x H x D)
13,2cm x 18cm x19,5 cm
Modular, connectable in series and with an integrated BMS. With a high charging rate of up to 2C, etaSTORE LFP can be charged from 0-100% in the fastest case in around 30 minutes .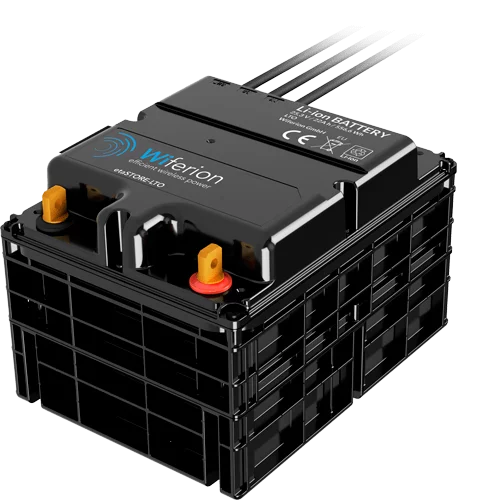 eta

STORE LTO

Lithium Titanate – The right choice for high
charging currents & many charge cycles per day

Capacity (nominal)
22 Ah
Voltage (nominal)
25,3 V
Charge rate(C-rate)
bis zu 5C
Cycles
< 17000
Charge current
125A
Number of batteries
per system
max. 2
Communication system
CAN-BUS
IP-Protection
IP53
Size (W x H x D)
19cm x 16,8cm x 25cm
Modular, connectable in series and with an integrated BMS. With a high rate of up to 5C, etaSTORE LTO (Lithium-titanate) can be charged from 0-100% in around 12 minutes with high power and cycle life .
Discover our different wireless inductive battery charging solutions
Buy LFP & LTO batteries for AGV & industrial trucks, request a quote or personal support
We would be happy to advise you on the rechargeable batteries, complete energy storage systems and advantages of our charging technology and chargers, including in a personal discussion. We will find the right and individual charging solution for you, based on your individual vehicle details and fleet size: