Production logistics: more productivity through inductive charging
With our inductive battery charging systems, you can increase the productivity of your production logistics by up to 30%. We enable flexible and fully automated intermediate charging ("in-process charging") of your vehicle fleets without requiring major interventions in the infrastructure of your production and logistics environment. Smart data acquisition provides you with all relevant key figures for your energy management.
Consistent material availability at the installation site and maximum efficiency of processes – in production logistics, every second counts to ensure that production processes interlock smoothly. The focus here is on the automation of internal logistics and production with automated guided vehicle systems (AGVs), autonomous mobile robots (AMR), industrial trucks as well as the intelligent management and analysis of data. New energy solutions are needed to make economical and productivity-enhancing use of industry 4.0 route trains, autonomous production vehicles and the like
Fully automated charging processes for all vehicle types
With our inductive charging systems, you can sustainably increase the performance of your production logistics. The battery charging systems of the etaLINK series enable the "in-process charging" of your vehicle fleet. The energy solutions can be installed easily and flexibly via plug-and-play at highly frequented points in the warehouse layout, e.g. on walls, on the floor, on driveways, at parking areas or loading and unloading stations (source and sink), without interfering with the infrastructure. In this way, short downtimes of autonomous mobile robots in a cycle production or charging times of route trains can be used for "in-process charging".
In this way, short downtimes of autonomous mobile robots in a cycle production or charging times of route trains can be used for "in-process charging". If processes or sequences change, a new positioning can be implemented with a few simple steps. Your advantage: The system charges any type of vehicle regardless of voltage and charging current with only one stationary system. Time-consuming trips to charging areas are thus completely eliminated.
As soon as a route train, forklift, AGV or AMR drives to the charging station, the charging process starts fully automatically in less than a second. Thanks to the high efficiency of 93 %, even the shortest stops can be used for efficient energy supply. The result: unlike charging systems with plug or sliding connections, the energy level of the vehicles remains constant due to the many small intermediate charges. Longer charging phases, in which e.g. tugger trains are not productive, are a thing of the past. There is also no need for time-consuming battery changes and the necessary space-consuming infrastructure.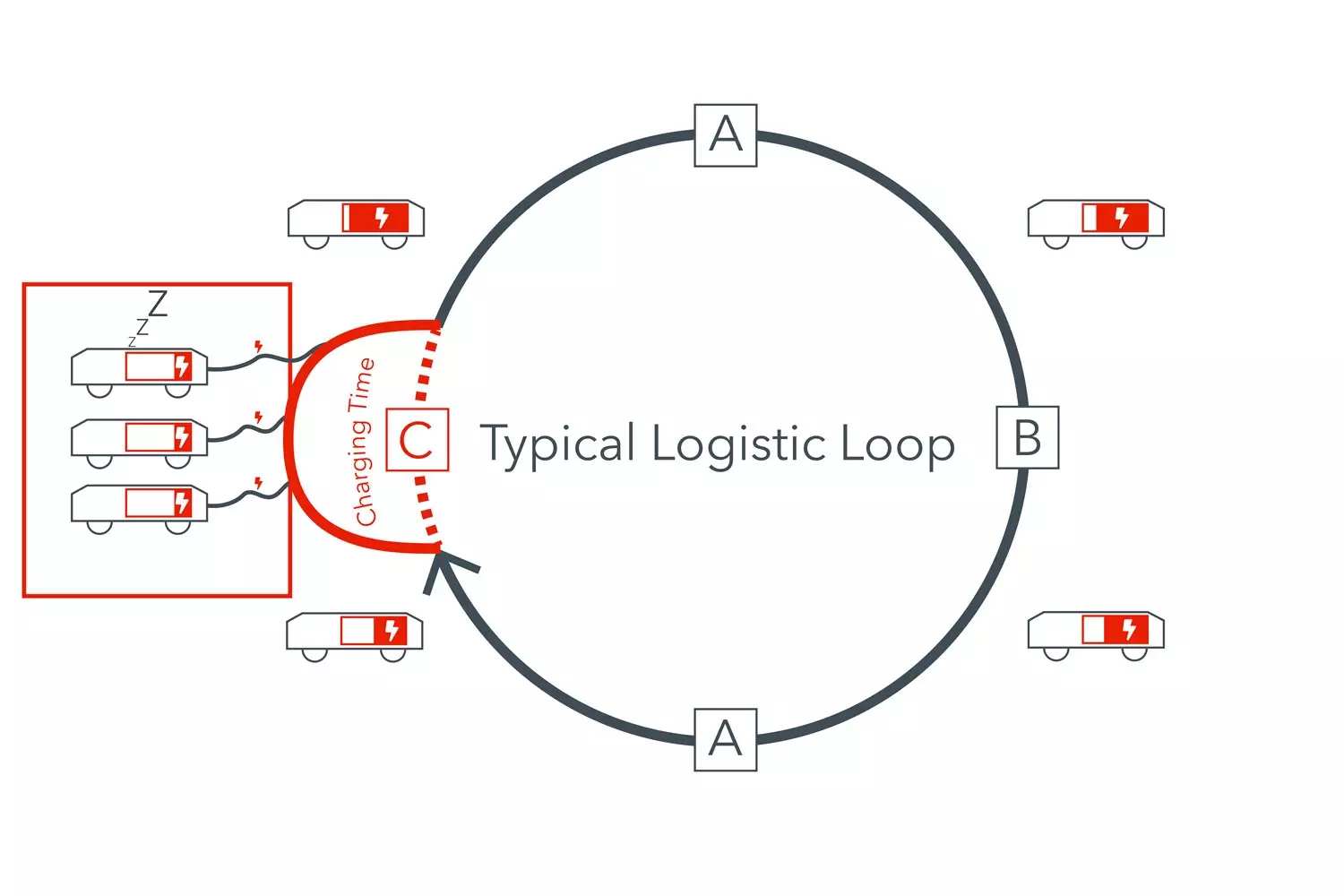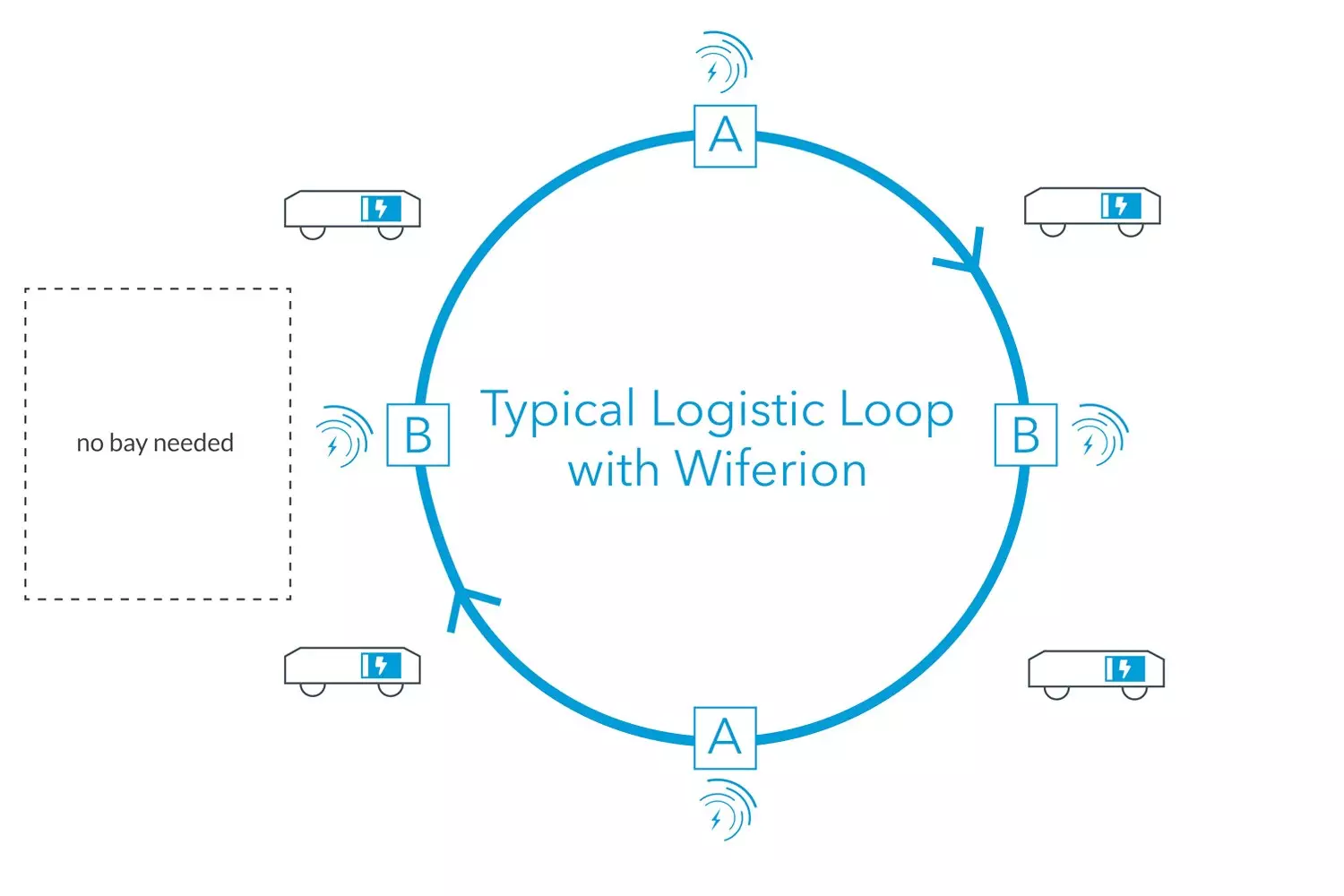 Compared to traditional charging concepts in production logistics with conductor lines, as still frequently found in production lines with AMR integration, inductive point charging is convincing due to its high flexibility. A cost-intensive and static installation of the conductor lines in the hall floor is no longer necessary. In addition, the warehouse layout can be adapted at any time.
Save costs through reduced battery capacities
Since the energy level of the vehicles remains constantly high due to the short stops, only a small capacity range of the batteries is required. The required capacity of the battery used is reduced by up to 30% – and at the same time the costs for the acquisition of tugger trains and AMR are reduced.
Maintenance-free charging of AGV and AMR batteries
The fact that our inductive charging systems transfer energy without contact means that there is no need for abrasion or wear, as is the case with plug or sliding contacts. Our battery charging systems have IP65 certification.  This guarantees maintenance-free operation in 24/7 continuous use – even in demanding working areas where dust or dirt is generated. Outdoor installation is also possible.
Data evaluation for efficient logistics processes
Our battery and charging systems are a complete solution for energy supply and enable an evaluation of the data generated with our cloud-based software etaHUB. By systematically recording all energy data, you can control your processes with foresight.
The charging unit is connected to the battery via a CAN interface. In this way, all data regarding the energy level, operating times and vehicle conditions are recorded in real time. This allows you to implement industry 4.0 applications such as condition monitoring or predictive maintenance and to implement efficient energy and fleet management.
The benefits of inductive charging at a glance
See it in action or interested in our wireless charging solutions? Get in touch!
Follow us on social media