ALL-4-ONE INDUCTIVE BATTERY CHARGING SYSTEM AND LITHIUM BATTERIES
Wiferion Products – Industrial Inductive Charging Systems
WIRELESS PRODUCT CATEGORIES
01 Wallbox / 02 Charging pad / 03 Receiver pad / 04 Mobile charging unit / 05 Energy storage – battery
Inductive power system products for industry applications from 1kW to 36kW – the etaLINK Systems
IP65, CONTACTLESS, INSTANT, WEAR & TEAR-FREE CHARGING
The patented etaLINK 3000 & etaLINK 12000 system was developed for inductive charging of industrial vehicles within the area of mobile robotics and wireless charging AGV. With our design, the battery charging systems take into account the intelligence and autonomy of the new generation of autonomous vehicles and robotics systems. They can be easily and independently installed and provide the vehicle with all relevant data. It is possible to connect these in series, so that i.e. 2 etaLINK 3000 3 kW battery charging systems can charge with 6 kW as well as 3 etaLink 12000 for 36 kW.
No charging contacts with inductive wireless charging systems
The absence of mechanical charging contacts makes it easy to integrate charging the battery into existing processes and thus an intermediate charge of the batteries is possible. This saves time and eliminates the potential dangers posed by open contacts. The opportunity charging system etaLINK are maintenance-free  and enable uninterrupted operation over many years.
charge battery wirelessly – etaLINK – wireless battery charging station
The contactless, inductive wireless battery charging system for autonomous transport vehicles (AGV), robots and industrial trucks in industrial environments. As soon as your vehicle is on the charging station, the charging process begins. The contact-free design means that the Wiferion wireless charging products can be placed wherever it makes sense for your process. In less than a second, the charging process is initialized without any problems. For optimized inductive wireless charging of the lithium-based batteries, communication with the vehicle components is ensured via an integrated CAN bus interface makes it the perfect in-process charging system.
LITHIUM BATTERY TECHNOLOGY
a game changer in powering your electric vehicles
During the past decade lithium batteries have evolved from a niche technology to a state-of-the-art storage technology for electric vehicles. Especially for the material handling segment the advantages compared to traditional lead acid batteries are obvious and modern agv battery charging systems have a better ROI.
etaSTORE LITHIUM BATTERIES
Dependent on the requirements of your application Wiferion also provides different battery types for inductive wireless charging.
Each type can be provided:
For 24 V and 48 V Systems
From around 20 Ah – 250 Ah (at 0.5 kWh-12 kWh installed energy storage)
CAN based user-Interface to access: State-of-Charge, State-of-health, voltages, currents, etc.
Allround Battery (LFP)
Optimal solution for most 24/7 AGV applications
Advantages at a glance:
High cycle-life: > 8500 full-cycles

100% Depth-of-Discharge
1 C / 1 C charge-/ discharge current
remaining end-of-life capacity of 80%

High current: 1-2 C charging discharging rate (1 C is equal to System-Capacity in [Ah] divided by 1 [h])
High intrinsic safety due to low exothermal potential of LiFePo chemistry AND current interruption device (CID) in the cells
High system safety due to multiple safety interruption units
High standards: UN 62133 (US marked) and EN 62133 (European market)
Guaranteed use of Sony/Murata Cells with highest production quality, lowest production spread
Power Battery (LTO)
The right choice for heavy duty applications with charging currents over 200A and more than 10 full cycles per day
Advantages at a glance:
Highest cycle-life: > 17,000 full cycles at 100% DOD for remaining end-of-life capacity of 80%

100% Depth-of-Discharge
6 C / 6 C charge-/ discharge current
remaining end-of-life capacity of 80%

Highest power to energy ratio: ~ 4 C charge and discharge à 4 kW discharge-power for each 1 kWh installed energy (= 160 A @ 45 Ah installed Capacity)
Highest temperature range: full power charge and discharge from around -20°C-50°C
Highest international Standards: IEC 62619
Guaranteed highest Japanese production quality with lowest production spread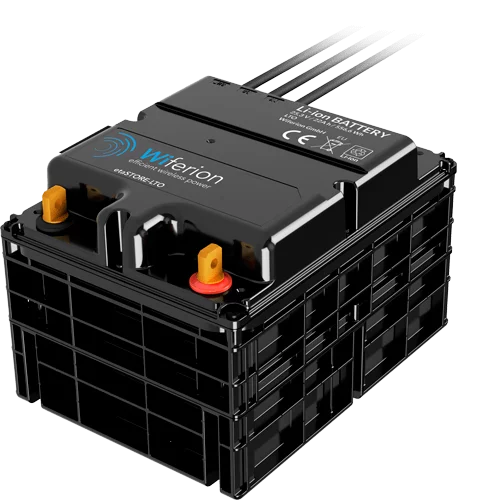 etaTRAY – FORKLIFT RETROFIT
WIRELESS, INDUCTIVE BATTERY TRAY
Inductive charging systems and Lithium-ion batteries integrated into a standard battery tray. Charge batteries wirelessly from forklifts and AGVs directly in the working process at every opportunity. By eliminating the charging plugs and contacts, the system offers ideal conditions for automation. You save time, increase safety, and improve reliability with inductive charging systems.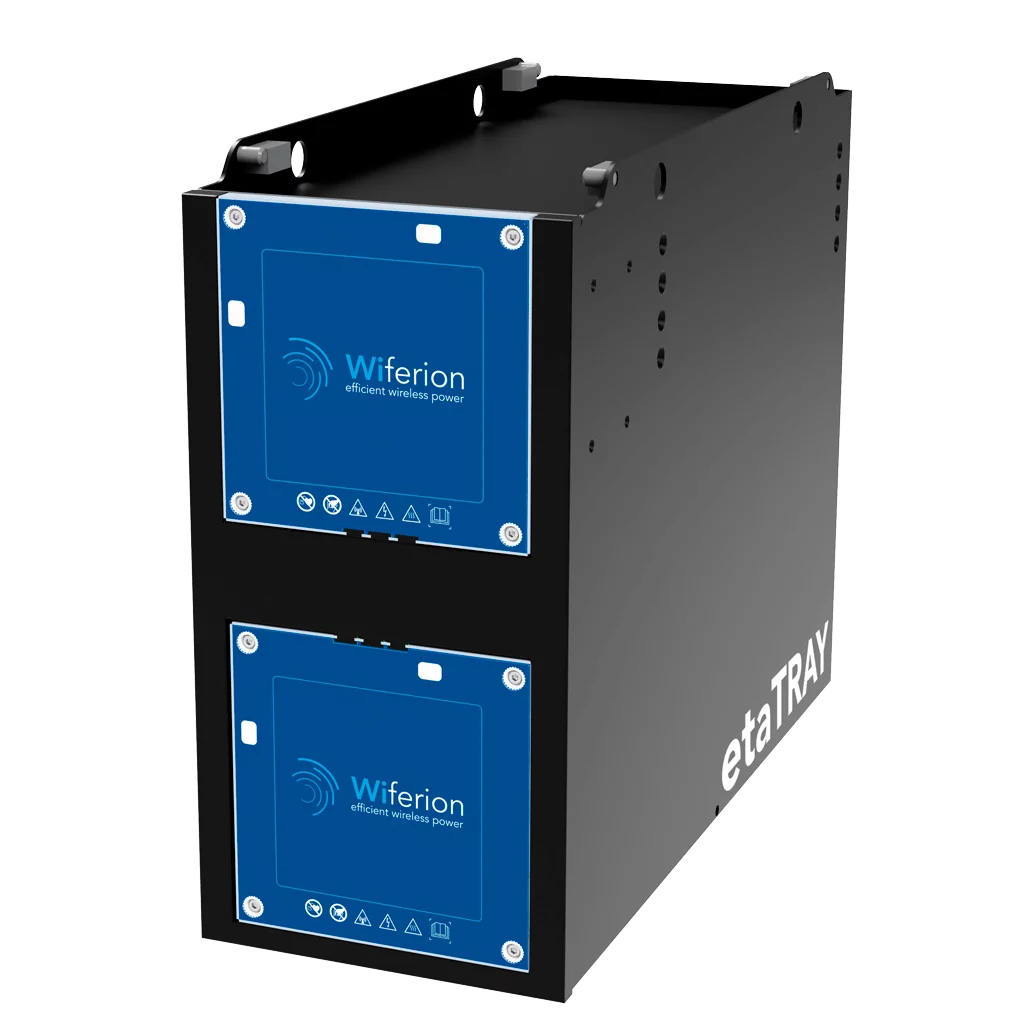 Wireless power for your forklift
Quick and easy exchange of your old battery-system
Compact and standardized exchange tray to upgrade your battery system – including the integrated etaLINK 3000 receiving unit
Modular capacity sizes
Battery voltage: 24V-48V
Charge current: 60A-180A, scalable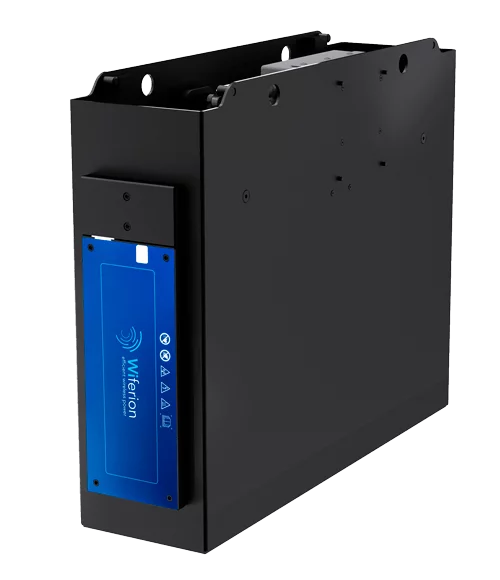 etaHUB – Digital energymanagement system
CLOUDBASED ENERGY DATA
Your energy data holds the key to optimizing your processes. Our etaHUB cloud solution and the CANbus gives you access to all this data of our wireless power products, electric vehicles and even more. You could use it, for example, to plan in vehicle services far in advance to help prevent breakdowns or to take specific vehicles out of operation if their battery is running low or error messages appear.