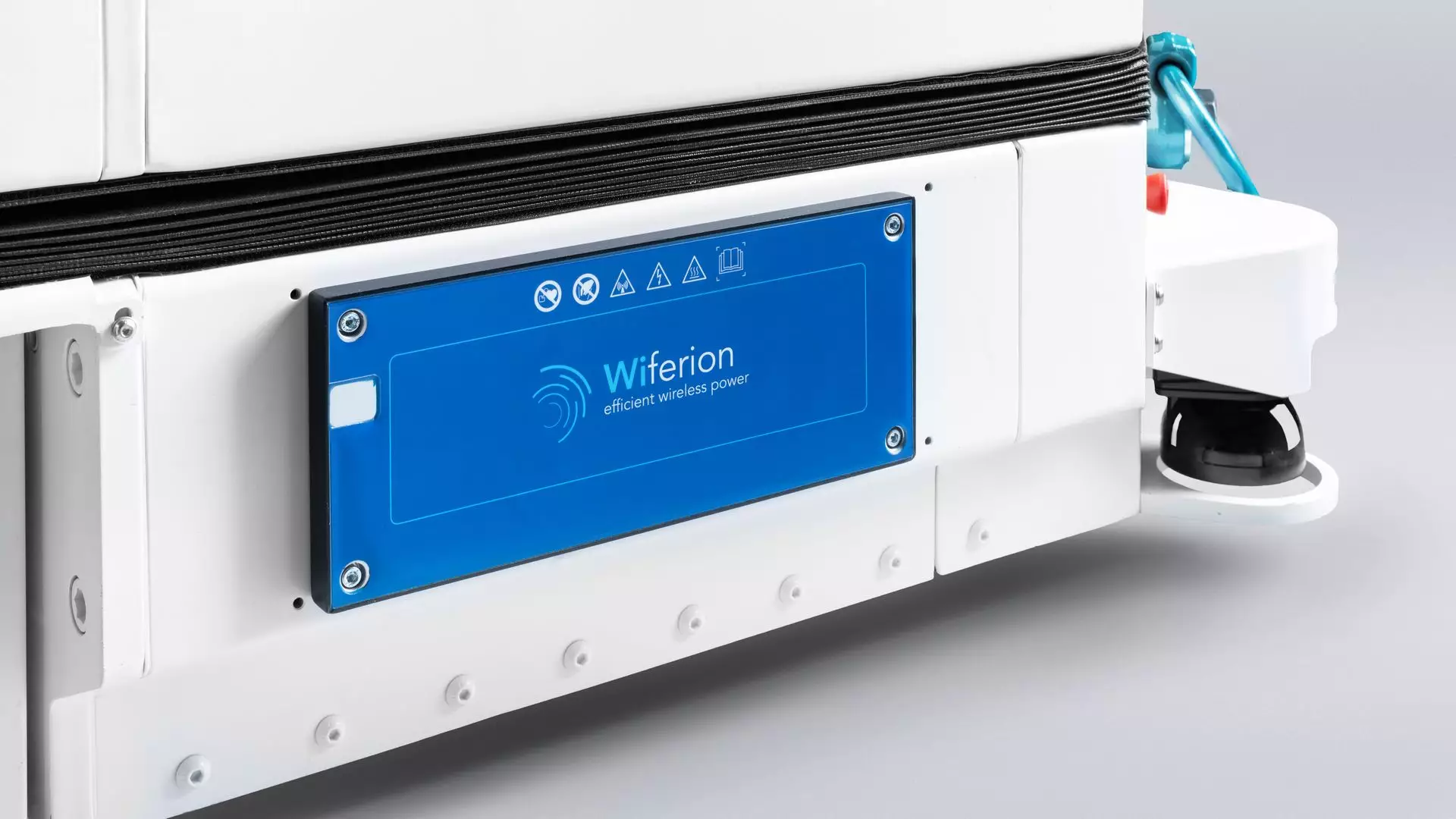 Wireless charging for AGV
(automated guided vehicles)
Wireless charging for AGV (Automated guided vehicle) is the technology of the future when it comes to power vehicles. In addition to the development of smart algorithms, sophisticated sensor technology and decentralized intelligence in AGVs, right up to swarming behavior, are inductive chargers (wireless charging) the key to making solutions even more powerful and enabling fully automated agv system processes.
Whether platform trucks, narrow-aisle mobile robots or driverless forklifts – automated vehicles are scalable, flexible and optimize the the applications and weak points in logistics and production. The charger system thus enable an efficient degree of automation of transport and warehouse operations without contact.
Wireless charging of AGV enables 24/7 and "in-process charging"
Our inductive battery charging solutionse enable 24/7 operation of automated guided vehicles and transport vehicles.
Our innovative "in-process charging" solutions allows the vehicles to be supplied with power efficiently and fully automatically – contactless and without the automated guided vehicles (AGVs) having to interrupt its transport for charging breaks.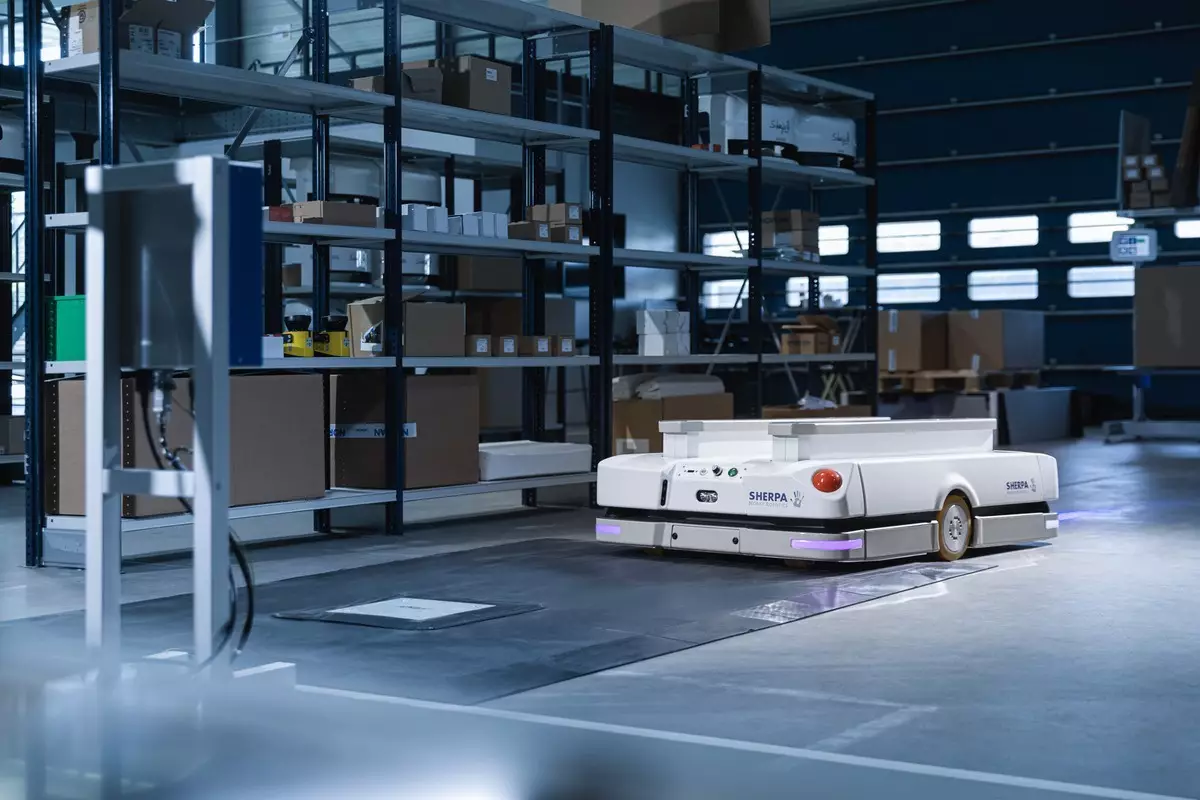 Selected customers and partners with integrated inductive charging systems in AGVs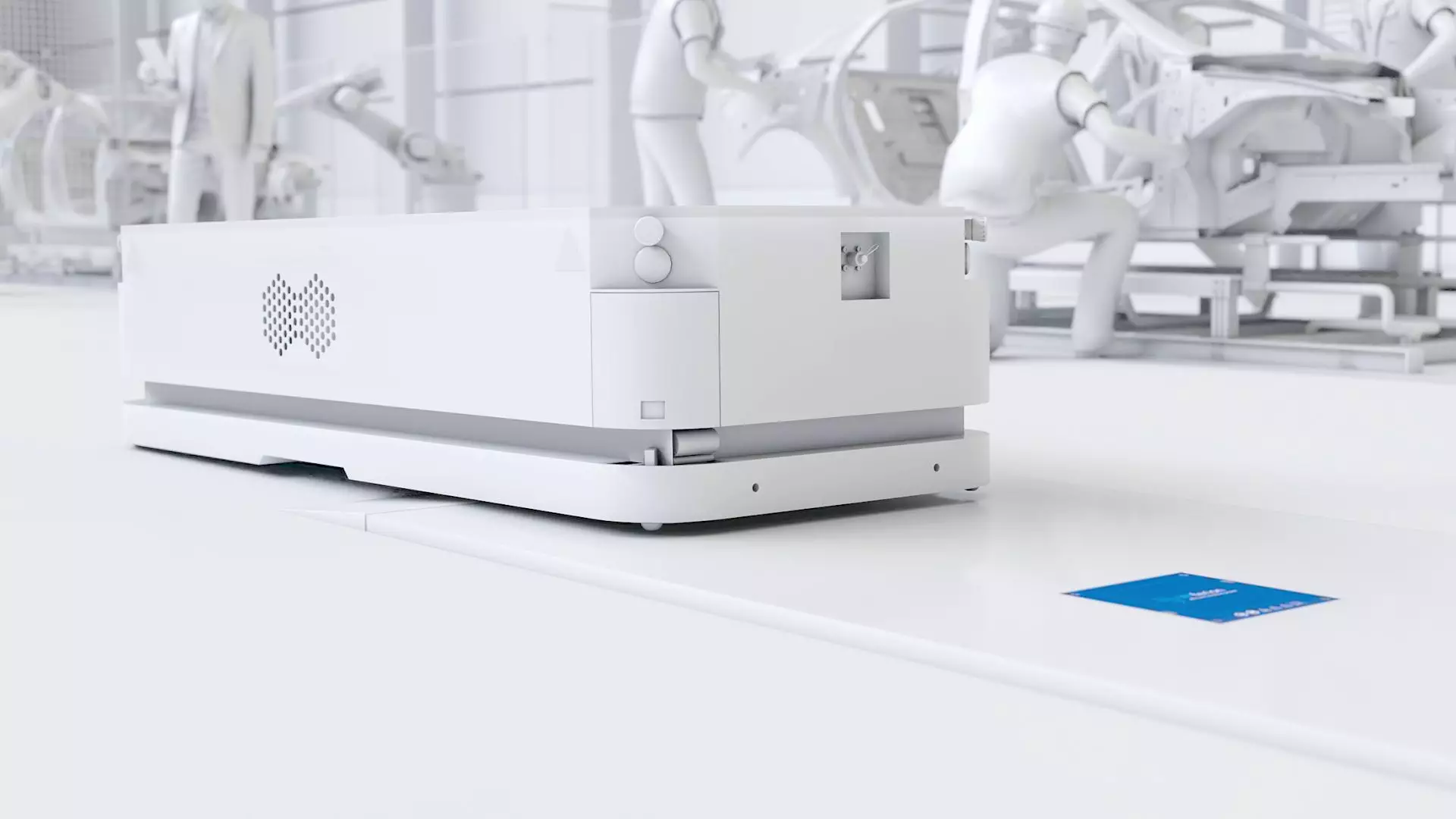 Industrial wireless charging enables continuous operation of AGVs
Our AGV battery charging systems of the etaLINK series require neither contact, plug nor sliding connections of the charger. The patented wireless charging technology consists of a wallbox and a charging pad that can be installed at suitable locations in the logistics and production environment.
The powerful electronics system of the etaLINK products with receiver coil, mobile charging unit and energy storage are extremely compact and are installed in the vehicle or robot.
If, for example, to charge an AGV drives to the charging point, the inductive charging process starts fully automatically in less than one second. Thanks to our high efficiency of 93 %, we can use even the shortest stops for efficient energy supply. The charging point can be approached omnidirectionally without contact by the AGV or robot.
Intermediate power transfer enables smaller batteries in AGVs
The intermediate charging enable us to keep the energy level of the driverless transport systems at a constant level. This  makes it possible that the logistic processes do not have to be interrupted to charge the lithium ion batteries. The driverless vehicles can thus complete their transport in continuous operation.
One charging system can serve all kind of battery technology and applications with 24 to 48 volts. The charging power and energy characteristic is freely programmable.
We guarantee optimized charging of lithium batteries and high process reliability by communicating with the vehicle components via an integrated CAN interface. This prevents the battery from having to be switched off due to an increased charging current and the resulting strong heat generation, making wireless charging the perfect agv application.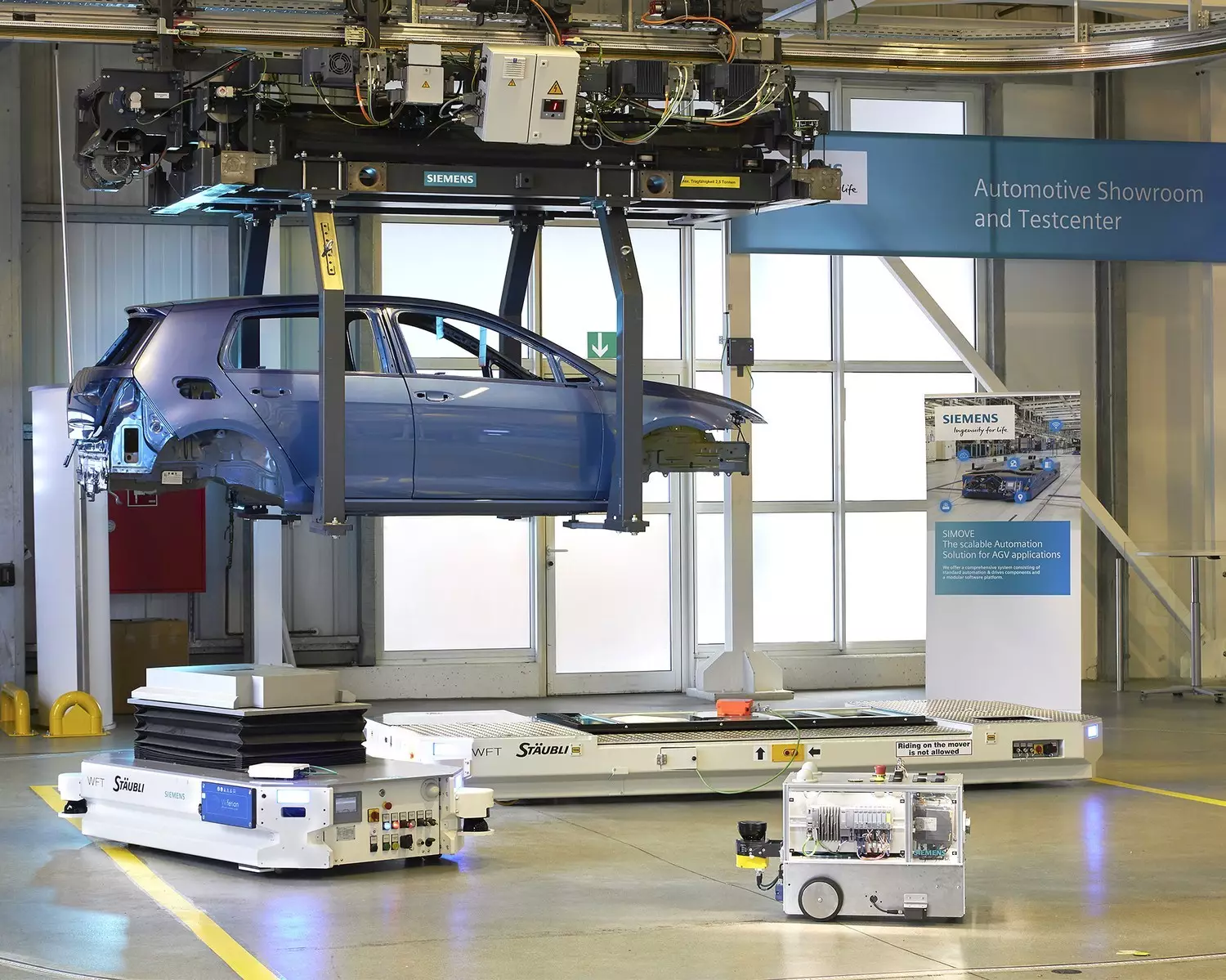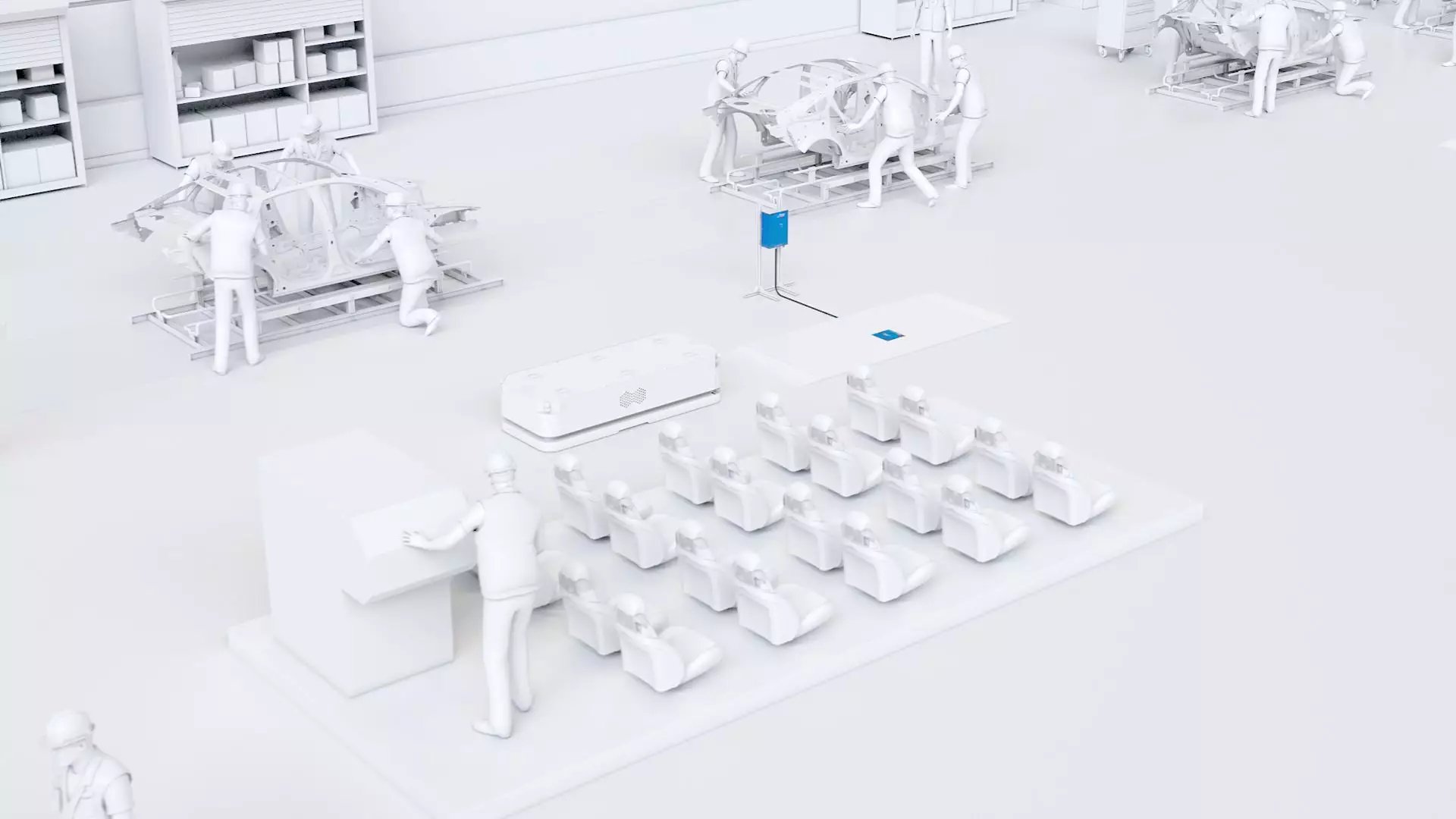 Reduced battery capacity in AGV possible
By using our wireless charging for AGV, the energy level of the vehicles remains constantly high due to the short stops with power transfer. As a result, a small capacity range of the batteries is required compared to conventional charging station solutions with plug connections. The required capacity of the battery used is reduced by up to 30%. The batteries installed in the vehicle or robot can therefore be dimensioned much smaller and agv (automatic guided vehicle) can be designed more compactly.
Maintenance-free contactless battery charging technology for autonomous vehicles
Our AGV battery charging systems requires no mechanical contact and is therefore practically maintenance-free. Problems like oxidized plugs or broken cables are a thing of the past. This makes the use of driverless transport systems even more reliable.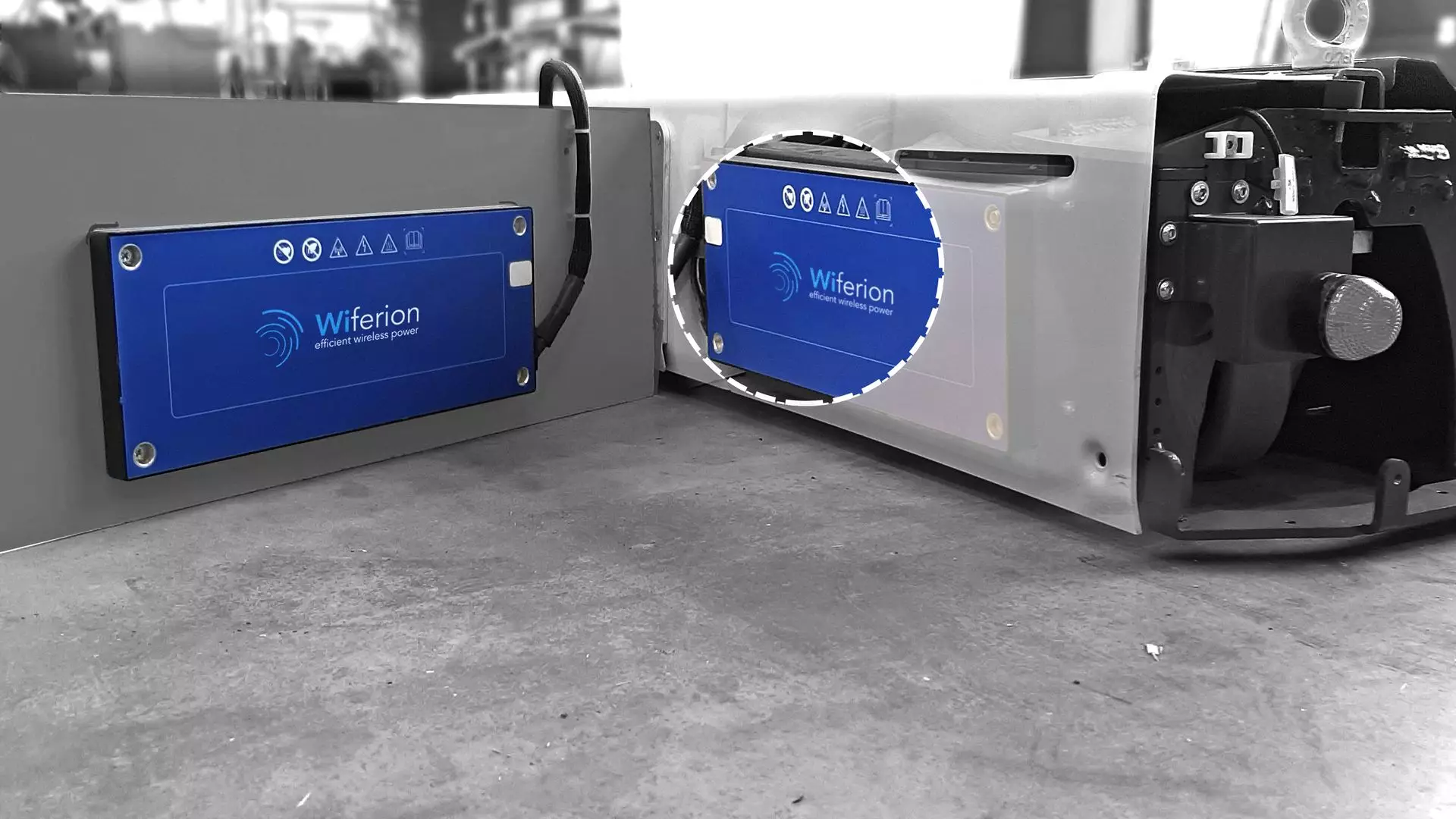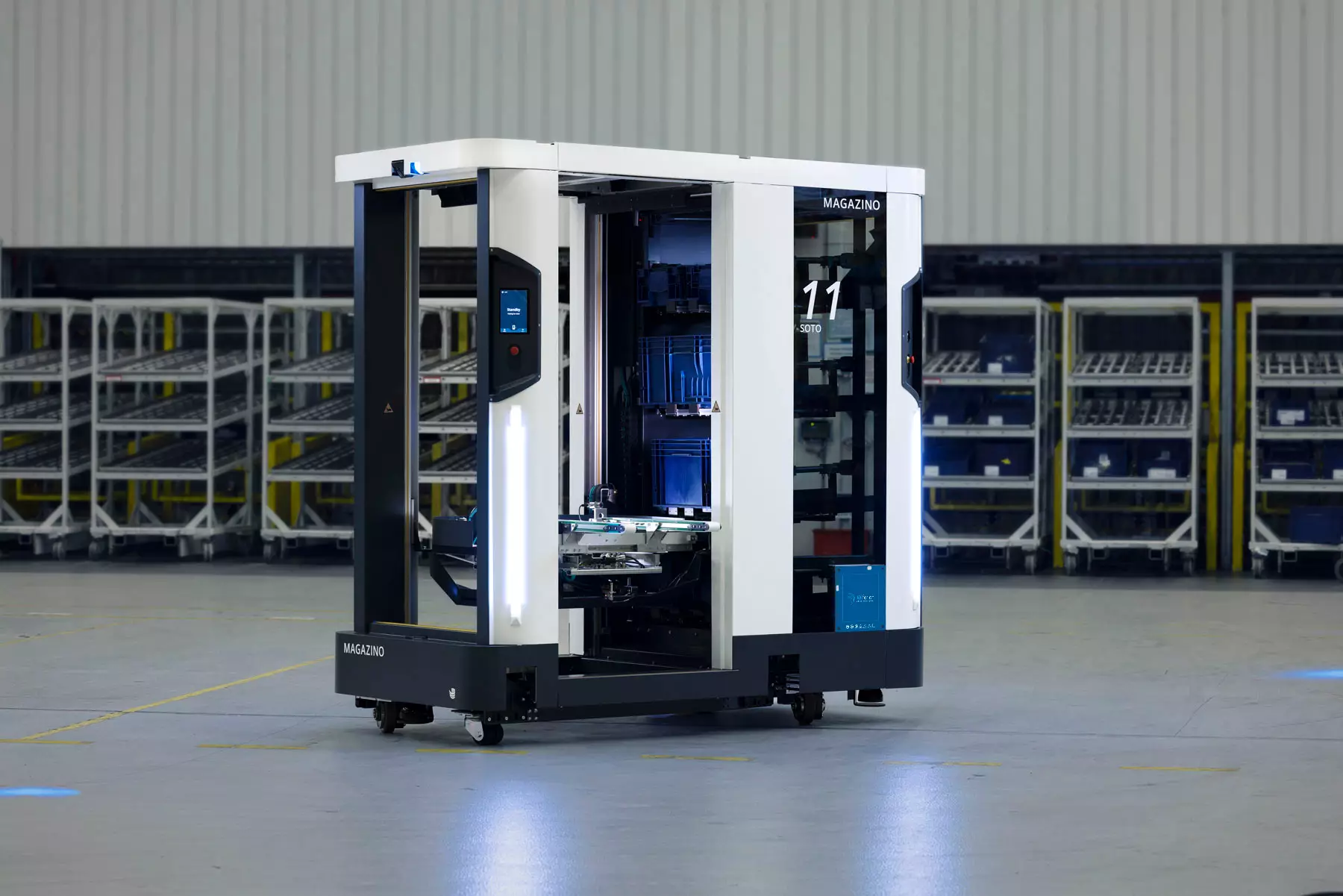 | Go-Live within a few days | Fast implementation at the end customer | Automated charging technology in the outdoor area |
| --- | --- | --- |
| A go-live of the systems at the user's site is therefore not delayed by the implementation of a charging infrastructure. In addition, the modular charger can be quickly adapted to changes in the workflow or new requirements in everyday production. | The etaLINK system from Wiferion can be installed almost anywhere – on walls, on the floor, on driveways, at parking areas, loading and unloading stations and many more applications. The advantage: With conventional systems, integration into warehouse processes can often take weeks or even months. No complex infrastructure measures are required to implement automation with the wireless charging technology. | Thanks to the protection classes IP 65 and 68 our agv charger etaLINK 12000 and etaLINK 3000 products are optimally protected against dust and water. Thus, automated charging processes of agv transport systems and mobile robot can be realized even in rough outdoor environments without contact. |
Fully automatic charging of the AGV fleet
The main features
fully automatic charging of mobile robots and AGVs
requires only one 230 V socket at 3kW
easy to install in all environments (IP65 certified)
The Wiferion charging pads are fully automatic charging stations at which the automated guided vehicles (AGVs) can charge their battery independently when required. Due to the compact design and a normal 230V connection, the etaLINK 3000 charging station can be integrated in any environment, whether outdoors or e.g. in a clean room.
Integration into your fleet with auto-charging
Your AGVs could be programmed to charge regularly between deliveries and/or during the process. This allows for uninterrupted operation of the transport systems. This keeps the fleet active around the clock.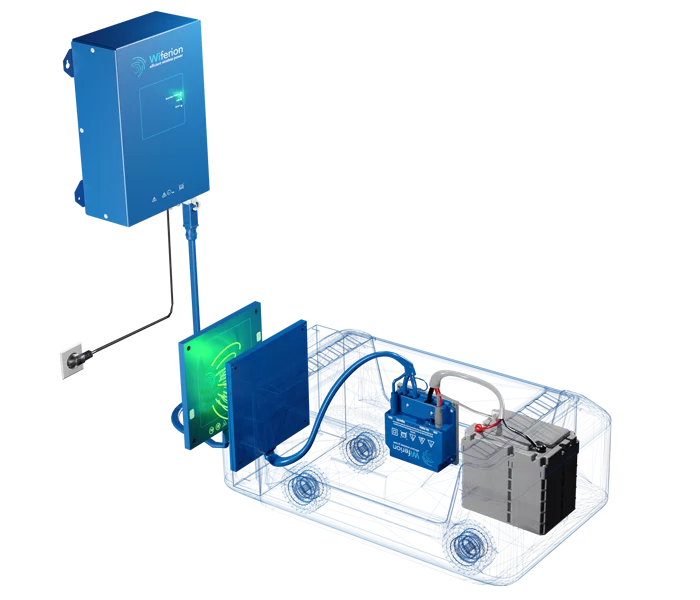 The benefits of inductive charging at a glance
See it in action or interested in our wireless charging solutions? Get in touch!
Follow us on social media
Contact us and learn more about inductive charging for AGV and battery