Transcript of the video
My name is Andreas Nolte, I am Head of Maintenance and Technics here at SMA Logistics Center. I am responsible for maintenance and repair as well as for the procurement of equipment, including our industrial trucks. SMA produces inverters for large plants as well as for small plants. We have been in the market for more than 30 years and are represented worldwide.
How did SMA come to the decision to test the inductive chargers from Wiferion?
We are always anxious to take up naturally innovative techniques and implement them in our company. For us, this was of course an advantage that Lindig approached us and said: "Would you like to test this at your place? And we took up the ball and said: "Yes, we are ready to drive and lead to new techniques and innovations", and decided to do this test at our company.
What expectations did you have?
We are in principle expectation-free at such innovations, because we did not know yet, what expects and therefore also very openly to the thing, in order to be able to evaluate then also neutrally.
How did the test go?
The test was positive and satisfactory. We have tested intensively, in coordination with Lindig also always on site, have exchanged a lot of information. And all in all, the test was so positive that we decided to use this technology in our company and to take a long-term approach.
What factors have contributed to a permanent installation of the inductive charging system?
Several factors have played a role for us: For one thing, we quickly saw that we were relieving the burden on our employees because this static battery replacement, simply, did not apply. The battery remains in the vehicle, and the employee charges the vehicle in the process while working and thus already relieved. We have a higher turnover rate because the vehicles are simply in permanent operation.
How many devices are currently in use?
With the last expansion stage, we now have seven devices and we have of course adapted the techniques even further to the other devices, provided that Lindig also offers this.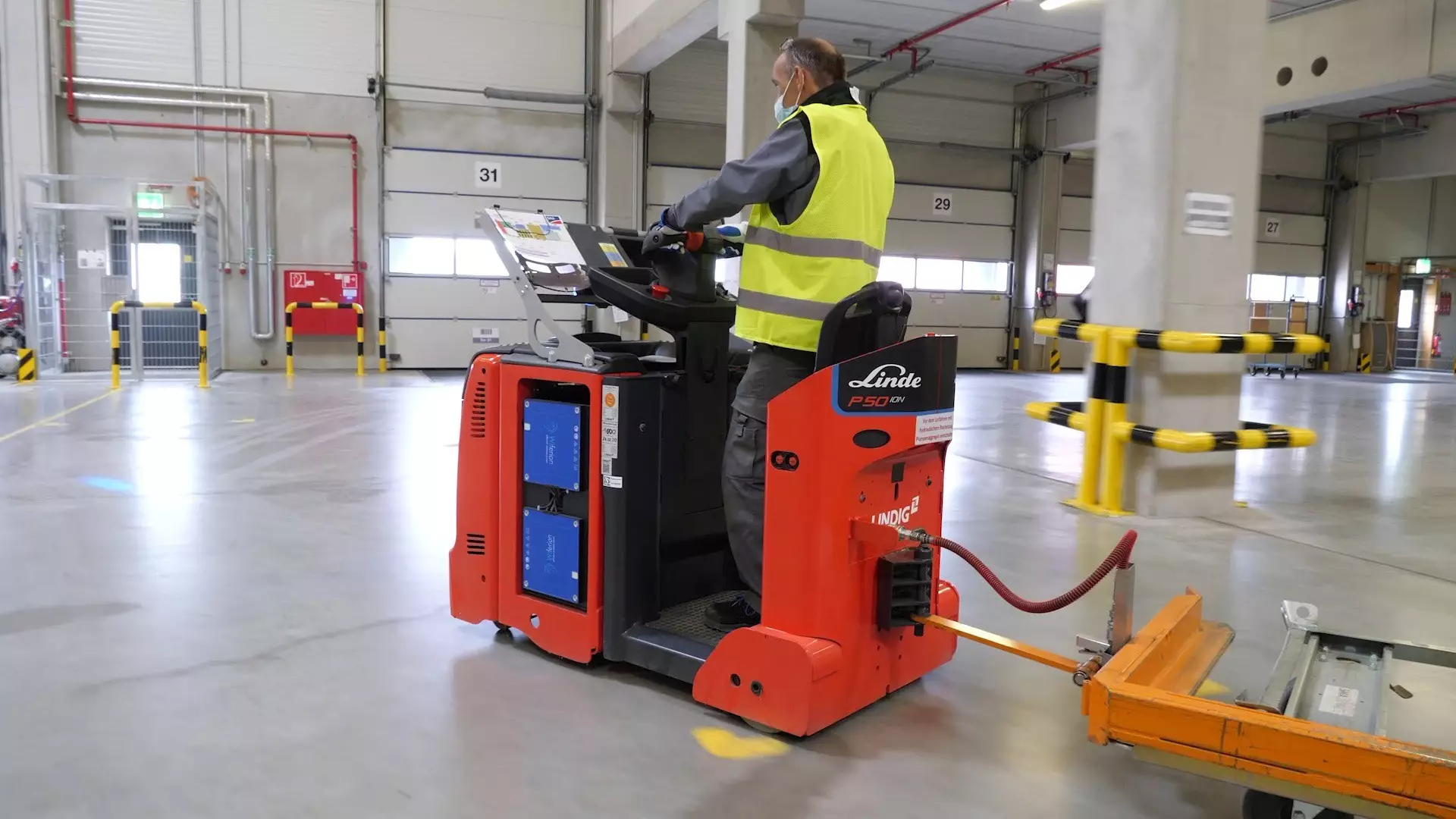 Were there other effects?
We did not have any surprising, additional, positive or negative effects! Simply positive that the employee no longer has to change the battery, the vehicle is always ready for use. We have maintenance-free batteries, so this was also an advocate for us.
What is the reaction of the employees to the new wireless charging system?
Very positive. No more tiresome changing of batteries, filling them with water, cleaning and so on. Completely! And employees today would no longer want to voluntarily switch to the old system.
How was the collaboration with Lindig throughout the entire process?
Of course we worked very closely together throughout the entire process. We tested, and always passed on the feedback from our tests and our experience, so even minor defects were corrected in advance. And we were actually … not actually, but are still in close contact and continue to work on small errors, if they occur, in a solution-oriented manner.
Were there any problems with the application?
There were minor teething problems with the handling. Of course the employees had to get used to the new handling, but due to isolated software updates as well as improvements in the technology, these were actually marginal teething problems, if you can call it that at all.
Is SMA planning to purchase additional equipment?
We always start again and we will continue to do so in the future. At Lindig, also as a reliable partner.
Contact us for further information