LR Intralogistik implements inductive battery charging systems for tugger trains
LR Intralogistik extends its range of services with the wireless charging technology of the energy solution provider Wiferion for their tugger trains. The etaLINK 3000 inductive battery charging system for tugger trains with the LTX 50 standing tractor is now available. LR Intralogistik is thus reacting to new market requirements and enabling its customers to fully automated charge lithium-ion batteries ("in-process charging"). Charging processes can be flexibly integrated into intralogistic processes and the fleet efficiency can be increased sustainably. The systems are available across Europe.
"With wireless charging, the solution range of our tugger train LTX 50 will be expanded by a decisive component."
For the tugger train element specialist LR Intralogistik, the focus in developing its customer-specific tugger train systems is on process reliability, cost efficiency, safety and ergonomics. The ability to wireless charging will be a crucial component in the future. "Up to now, loading the towing vehicle has been an efficiency killer," explains Benjamin Walter, plant manager at LR Intralogistik. So far, the towing vehicles had to be decoupled manually from the tugger train and then often had to travel long distances to the charging station. The problem: the tugger train is not productive during this time. In addition, the frame elements are often disconnected somewhere in the warehouse environment, where they disrupt the logistical processes and workflows. With automated charging processes in the material handling, such as the inductive battery charging system etaLINK 3000 from Wiferion, decoupling is completely eliminated. You can charge while loading and unloading or in any other production process, where the tow tractors stop. "With wireless charging, the solution range of our standing tractor LTX 50 will be expanded by a decisive component. Our customers benefit from a future-proof investment and an increase in their logistics performance," says Benjamin Walter.
In-process charging increases availability of tugger trains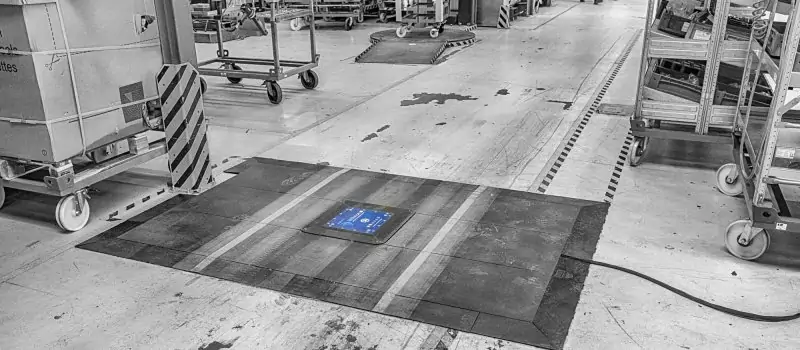 The inductive energy system from Wiferion consists of a stationary transmitter unit with wallbox and charging pad as well as receiving electronics in the LTX 50. The fully automated "in-process charging" keeps the energy level of the LTX 50 at a constantly high level. Downtimes during charging breaks are eliminated, which drastically increases vehicle availability. The charging technology can be easily installed via plug-and-play at critical points in the logistics and production environment – costly interventions in the infrastructure are not necessary. A retrofit of existing LTX 50 tugger train solutions and fleet is also possible. For Benjamin Walter, one thing is certain: "In-process charging meets the requirements for a fully automated, maintenance-free energy supply and will soon be an important part of intralogistics."
Get your quote now