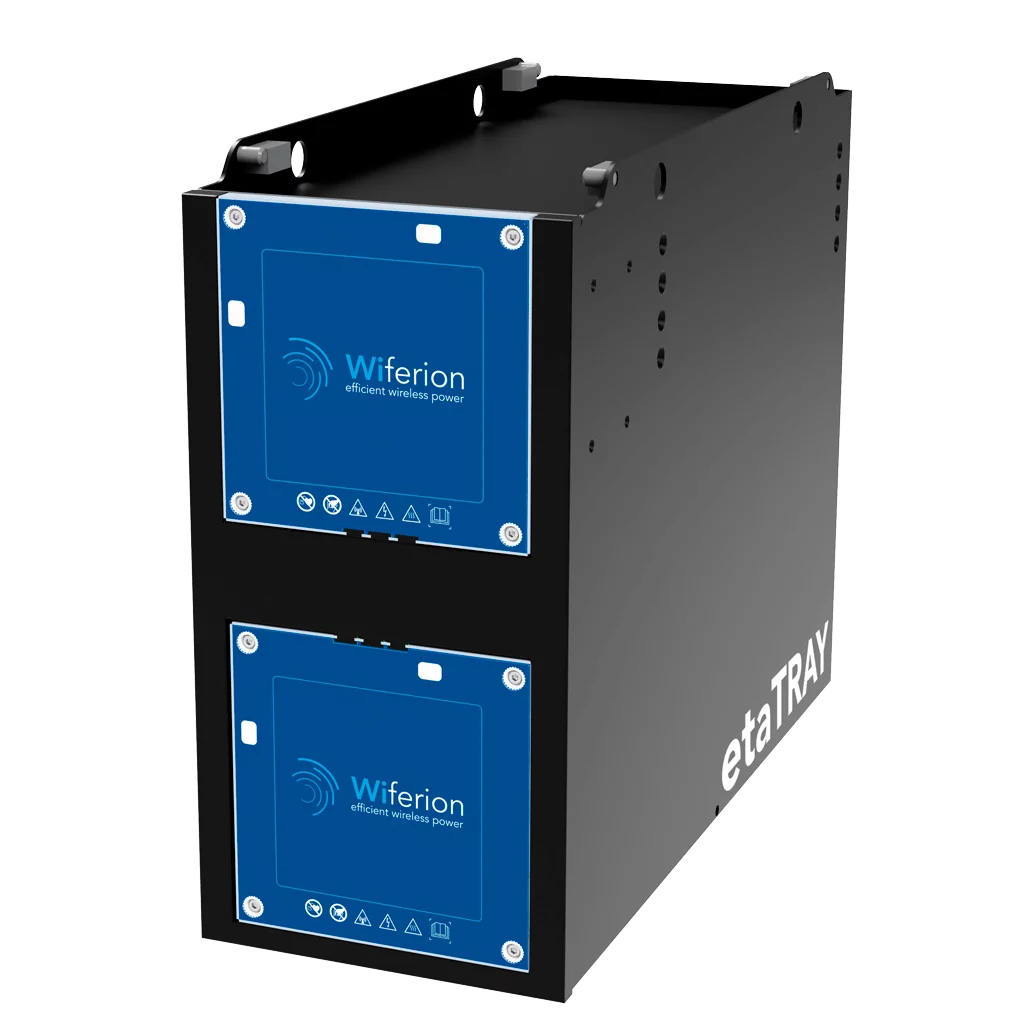 Inductive forklift battery and batterytray: etaTRAY
Forklift, lifting device and industrial truck inductive charger
etaTRAY is a Plug-and-Play forklift battery as a retrofit for your industrial truck. Available for all standard industrial truck battery trays with battery capacities of 100–240 Ah. No matter if you charge 12V, 24V or even 48V batteries. This is the One-4-All system.
Old industrial trucks still have a lot of life left in them. Instead of throwing them on the scrap heap, you can replace their standard lead-acid battery (PzS) trays with Li-Ion battery pack in just a few steps. This retrofitting solution combines inductive power transmission, intelligent wireless charging technology and lithium-ion batteries to make old vehicles fit for the future in material handling.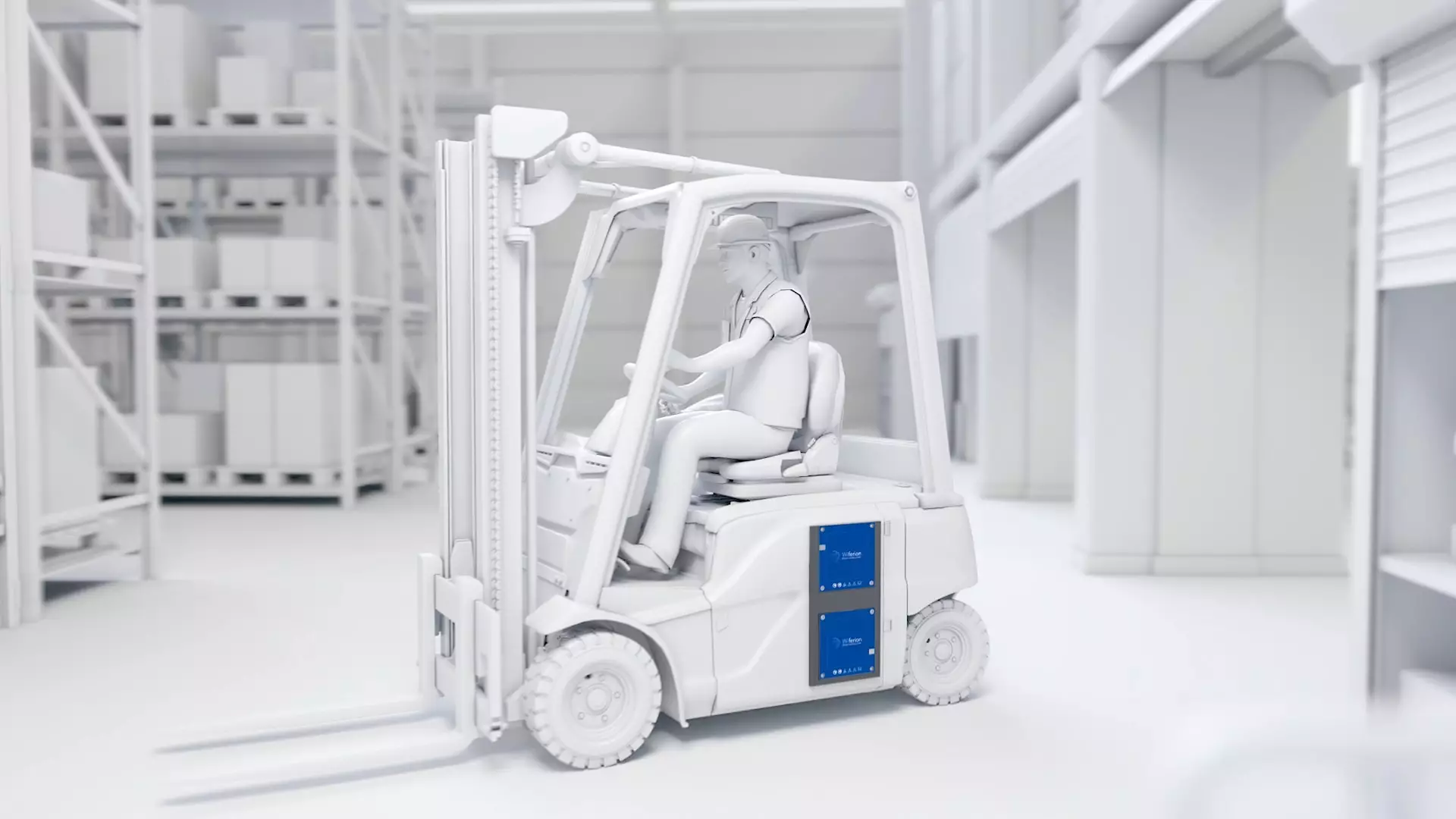 Our inductive batterytray with battery packs for forklifts, electric forklifts, lift trucks and tugger trains. Simply stopping your vehicle at the charging position will start your charging process. Thanks to the contact free design, the charging system may be installed where ever your process requires, i.e. loading and unloading stations. There are no trip hazards and charging will start within less than a second. For optimized charging of lithium batteries a CAN-interface to communicate with your vehicle components is part of the system. At the end no forklift battery charging station is even more needed, because its possible to use in opportunity charging manually.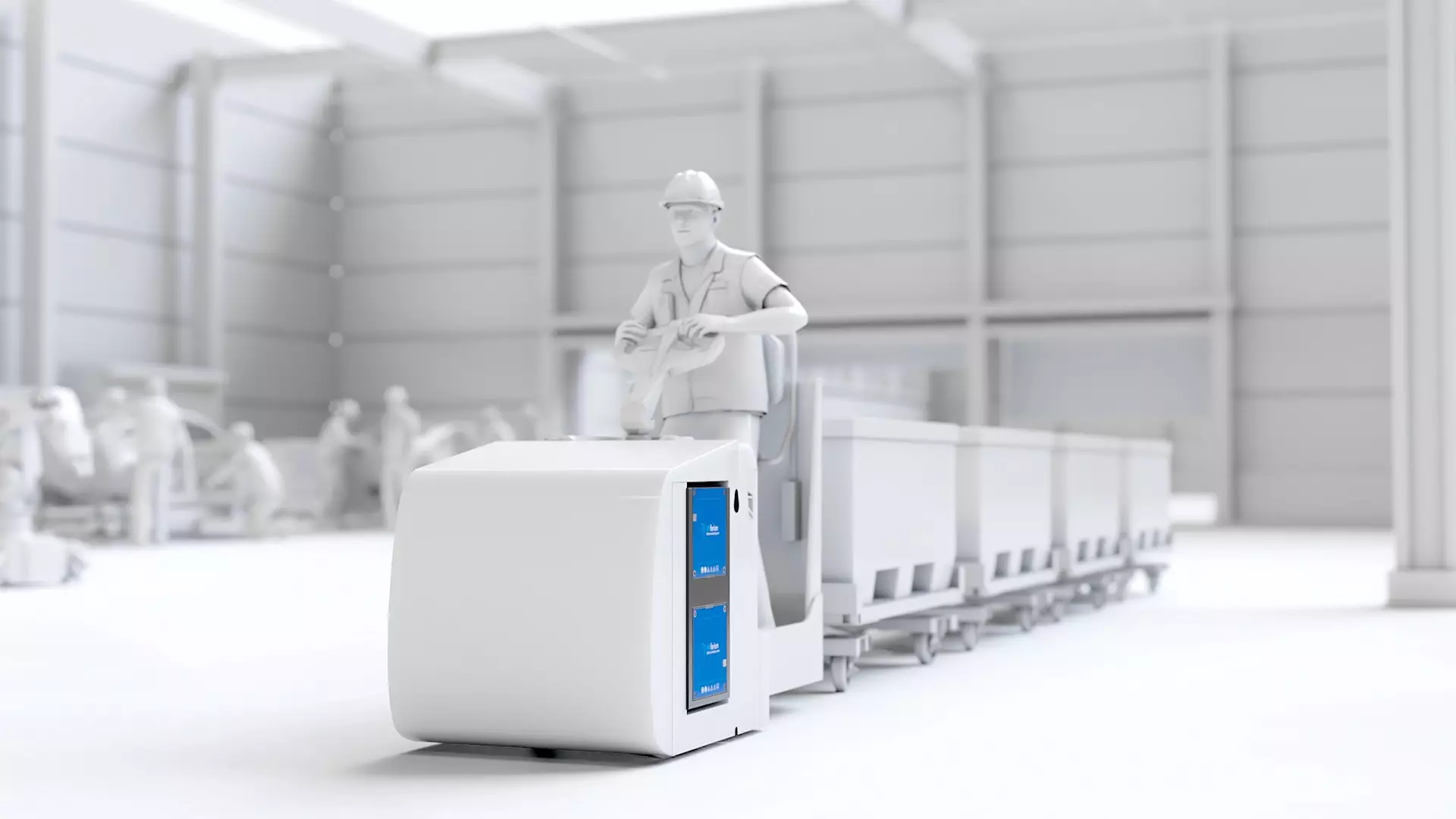 Contactless forklift battery charger without cable
The patented charging technology from Wiferion consists of a stationary transmitter unit with wallbox and charging pad as well as receiving electronics, which is installed in battery tray. If a vehicle, i.e. electric forklift, drives on or next to the charging station, the charging process begins in less than a second. So, there is no need for an additional battery charger anymore. It does not matter from which direction the charging station is approached. With optimized lithium-ion battery packs is etaTRAY the last battery you have to switch and never need an additional battery charger again.
An integrated CAN interface transmits data on the battery status and energy level to the fleet management. etaTRAY, etaLINK 3000 and the etaLINK 12000 system, is compatible with all available battery systems so it doesn't matter if STILL, Jungheinrich, Linde or any other industrial truck producer.
Wireless charging saves time
Higher safety without cables or the need of connectors
Batterystations are almost completely eliminated
Productivity increases due to higher vehicle availability
No peak loads during charging thanks to In-Process Charging
No battery acid anymore and much higher battery life
Individual battery tray and battery for your vehicle
We can offer you a forklift battery, industrial truck battery, tugger train battery and traction batteries with our tugger train and forklift charging station. The batteries are reliable and much more durable than the classic lead-acid batteries. For your safety at work, you have to rely on the fact that your truck works properly, so it is important to have a high-quality forklift battery with a charger. All of our batteries allow a very long runtime and high performance from beginning, as well as during the lifetime of your industrial truck and there is no need of battery change or a battery charging area at shift operations anymore. Also the forklift battery charging procedure will be completely gone.

Better
etaLINK achieves efficiency of up to 93% during the transfer of energy.

The charging process begins within 1 second.

The system complies with the IP65 & IP68 protection class, making it suitable for use outdoors and in harsh environments.

Much higher charging cycles.

Simpler
AGVs and other logistics vehicles can simply be driven up to the charging pad from any direction and a high position tolerance is guaranteed.

Thanks to their small dimensions, the mobile units can even be fitted into compact vehicles.

Management, consumption and telemetry data is transferred to the charging pads contactlessly via infrared interfaces, allowing the system to be digitally integrated into the logistics process.

Cheaper
In-Process Charging may reduce the amount of peak current provided by your energy supplier.

One charging pad can be used by a vast number of different vehicles.

Changes to building infrastructure and special charging areas are not necessary.

Battery Room, Wear parts, damage caused by improper use and problems caused by contamination all become things of the past.
Specifications etaTRAY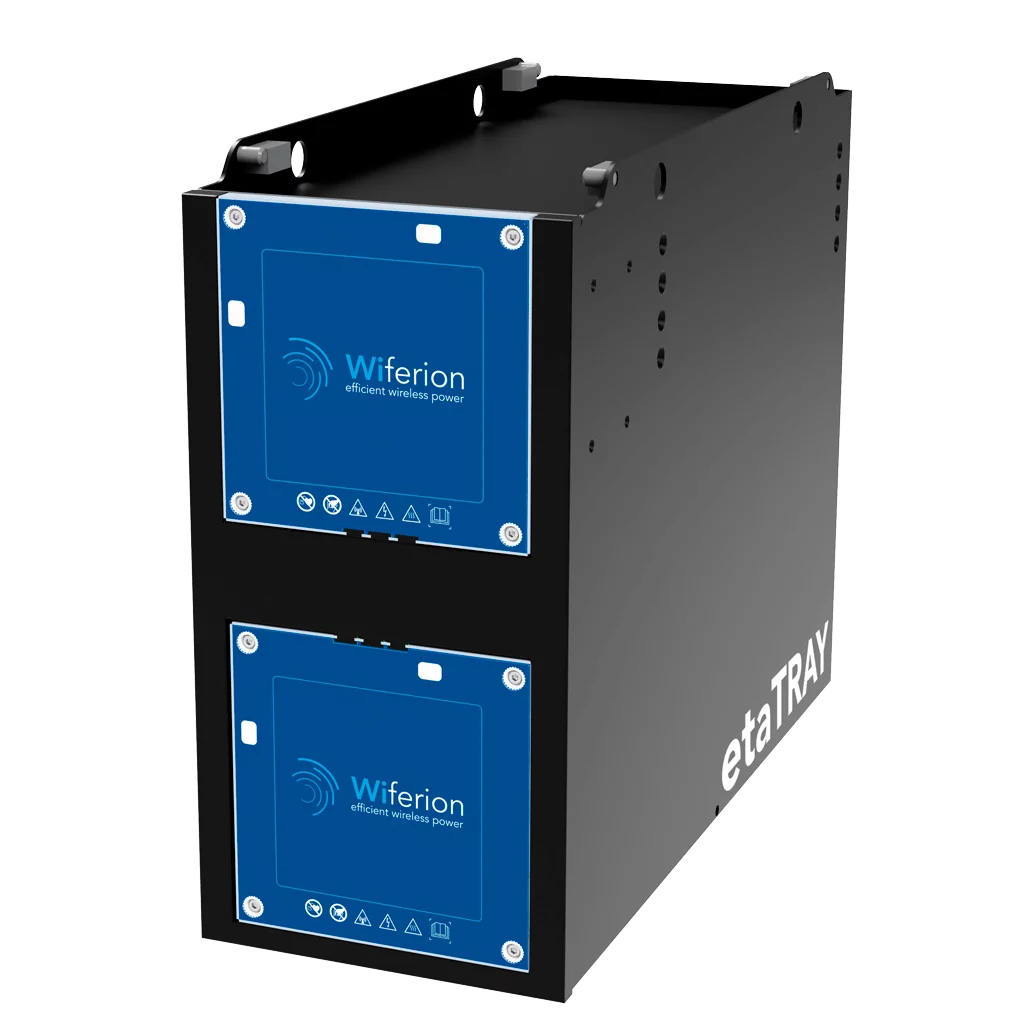 | etaTRAY | |
| --- | --- |
| Continuous charging power | 3000 W – 6000 W |
| Charging voltage | 15 – 60 V |
| Charging current | 60 A – 120 A |
| Protection class | IP65 und IP68 |
| Optimum distance | 15 – 40 mm |
| Position tolerance | +/– 30 mm |
| Size / Dimensions | Individual for your vehicle |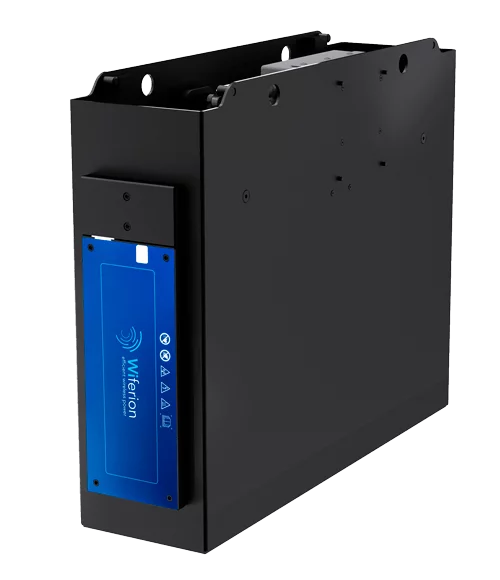 Discover our different wireless charging and battery solutions
Buy the forklift battery, request a quote or ask more questions
Let us advise you about your battery tray, industrial truck battery and charger or how to perfectly charging a forklift battery, also in a personal conversation. We will find the right and individual charging solution for you based on your vehicle details and fleet size.