etaHUB: Smart Robot Charging for AGV and AMR Fleets
Charge Optimization Platform for Improved Safety and Efficiency
The market for mobile robots is growing rapidly. Fleets are getting larger all the time and are distributed across a number of sites. Obtaining precise live data about the status of every single robot is therefore crucial for safe, efficient operation.
Smart Robot Charging with the Charge Optimization Platform
With our etaHUB charge optimization platform, we are offering the world's first solution for cloud based smart robot charging. etaHUB makes it possible for the first time to carry out remote diagnosis and error correction in the energy systems of automated guided vehicles (AGV), autonomous mobile robots (AMR) and other electric vehicles. The software extends the battery operating life and increases the productivity of the vehicles. Through intelligent charging management, we help you to reduce the energy consumption of your robots.
All the advantages of smart robot charging at a glance
Evaluation of over 70 pieces of energy data

Live dashboards for all energy supply components

Remote maintenance of energy system

Lower maintenance and servicing costs

Simple integration into fleet management systems

Up to 10% longer battery operating life

Lower electricity costs due to peak shaving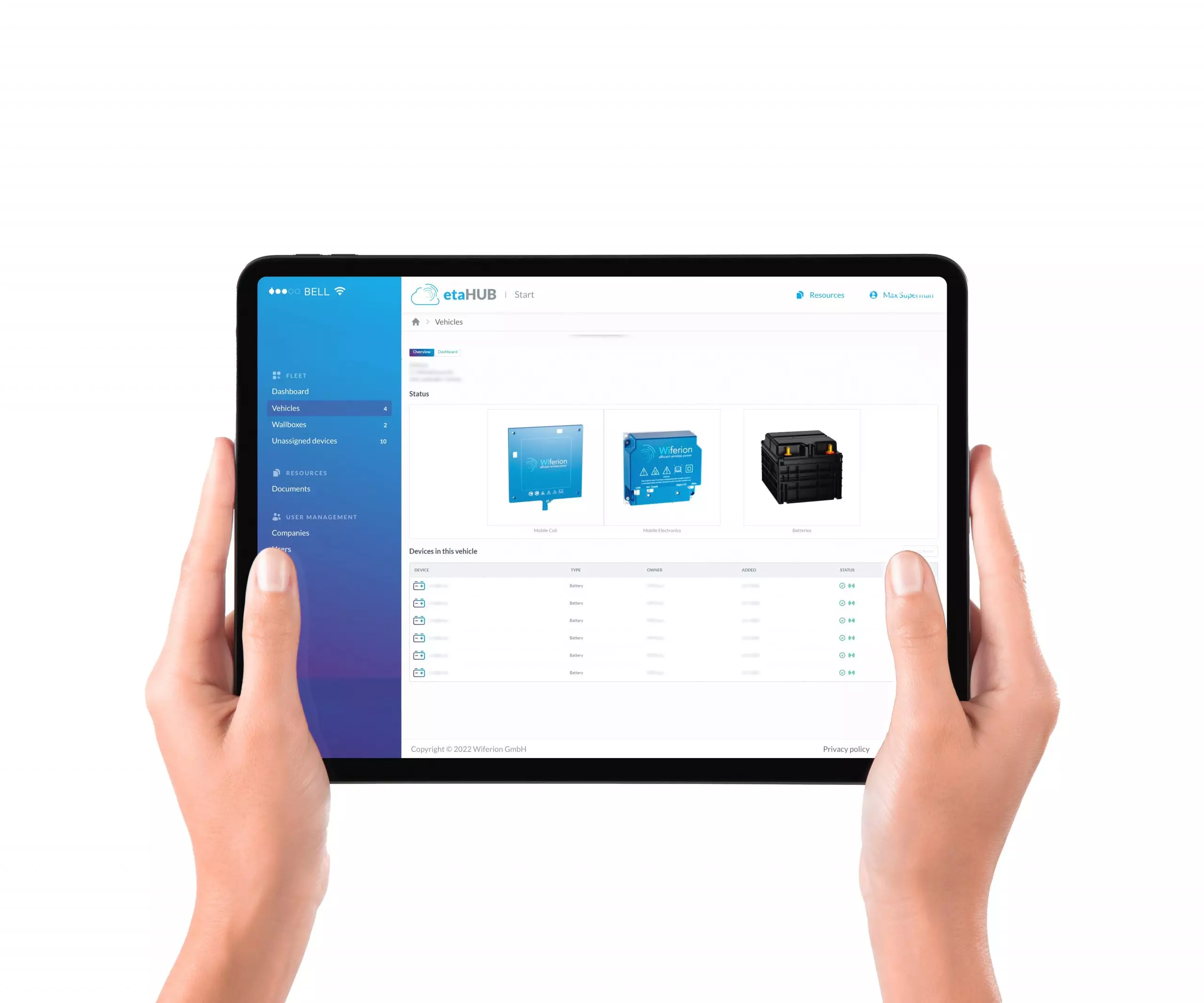 Robot fleets cannot be scaled without energy data
Because traditional charging solutions do not record energy data, large robot fleets for OEMs and users are a real challenge in terms of servicing, maintenance and safety.
If an error occurs in a robot's energy system, it cannot be localized online. A service engineer must find and correct the error on site. The affected robot is left idle. The more AGVs and AMRs there are in use, the higher the costs of servicing and increasing production downtimes.
Because of a lack of data, robots are often charged with a high C rate – irrespective of the actual order volume. This shortens the working life of the battery.
A fleet manager without etaHUB starts the charging process as soon as a particular battery capacity value is reached. Consequently, many robots move to the charging stations at the same time. As a result, energy consumption for a site increases dramatically in the short term, causing high costs due to peaks in load.
Optimized charge for your mobile robots
etaHUB evaluates over 70 data points in the AGV and AMR energy systems. These include battery temperature, mains voltage and battery status (state of health, SoH).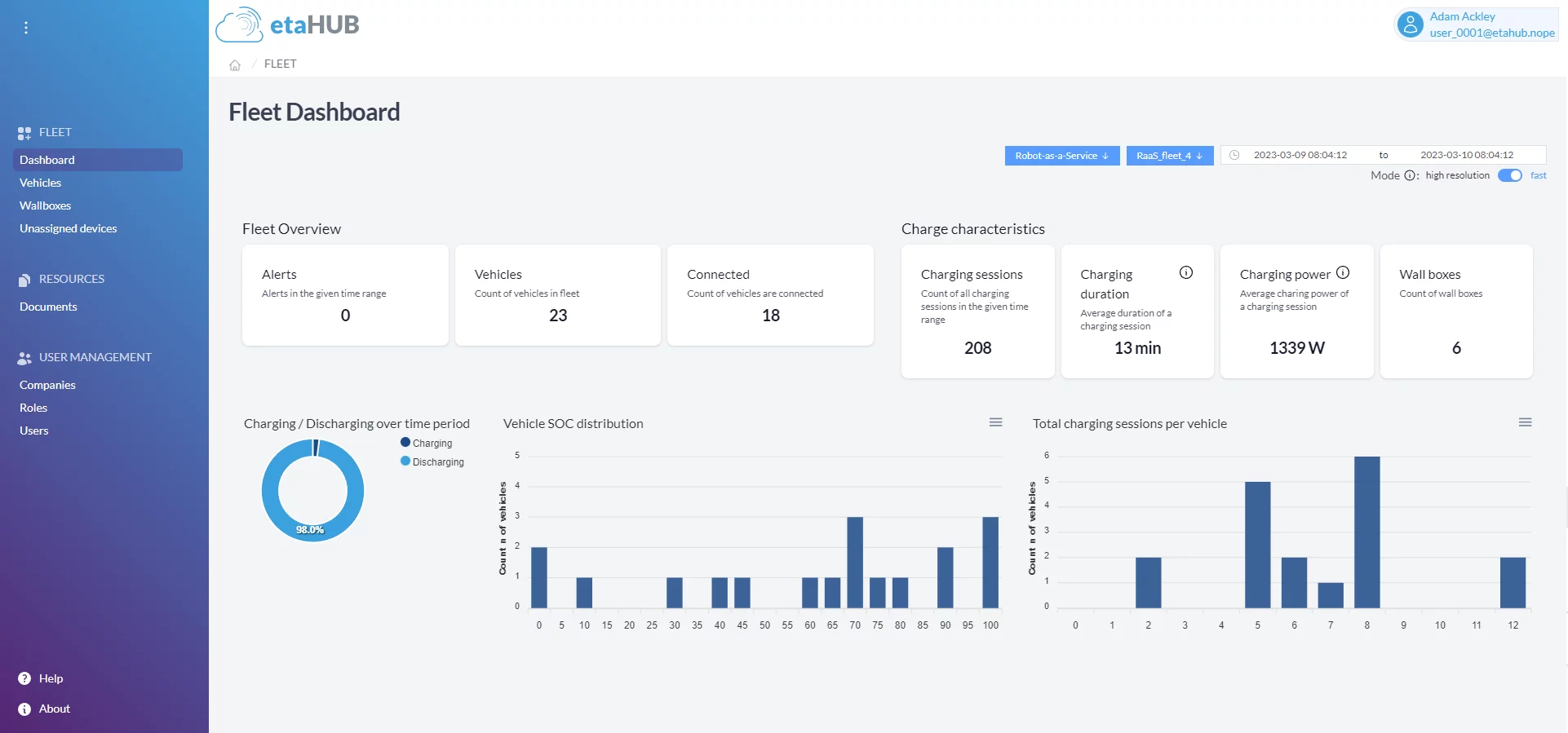 The result is the first smart robot charging solution for mobile robots.
You evaluate faults in the energy system online and correct bugs remotely instead of sending a service engineer.
You obtain precise information and forecasts about the battery status and remaining working life.
Integrated into a fleet manager, etaHUB draws up an optimum charging plan for every robot – based on its utilization.
You operate your fleets with a perfect balance between transport task and charging breaks at an unprecedented level of efficiency.
You charge your robots when the electricity costs are lowest.
You reduce your CO² balance. You can link the data with the energy mix (proportion of renewable energies).
Our etaHUB products for smart charging operations
etaHUB _start
You optimize the integration of the charging systems into your robots. Our intelligent algorithms analyze the system data and provide you with important information as to whether all the components are working perfectly and are correctly configured.
etaHUB _serve
You monitor the charging status of your robots in real time. If an error occurs in the energy system, this is shown in the dashboard. You receive a push message on your PC or smartphone. You immediately receive detailed analyses of the status of all important parameters. Fault analysis is carried out remotely.
etaHUB _monitor
etaHUB draws up forecasts concerning the expected battery operating life. In this way, you can plan the maintenance or replacement of the battery before robot malfunctions can occur. The software stores all the information centrally in a battery pass.
etaHUB _control
In combination with a fleet manager, AGVs charge up with precisely the amount of energy that they need – without redundant charging times. Robot performance improves. If the battery temperature is too high, the system communicates with the fleet operators. The robot moves into a safety zone.
etaHUB _extend
Intelligent algorithms extend the battery operating life by up to 10% through intelligent control of the charging and discharging speed (C rate).
etaHUB _reduced
You save energy costs. Smart charging makes it possible to plan the charging times of mobile robots in times when electricity costs are lower – at night, for example, when electricity demand is generally lower. It is also possible to couple this with data about the energy mix (proportion of renewable energies) from energy management systems.
Contact us for more information about the Charge Optimization Platform and Smart Robot Charging with etaHUB for vehicle charge.