Maximum production optimization with minimal investment costs – this is what Noovelia stands for. As one of the leading manufacturers of autonomous mobile robots (AMRs) in Canada, the company automates intralogistics processes such as pallet transport or forklift applications. In order to ensure the highest levels of efficiency and reliability for its customers, the company is integrating Wiferion's inductive charging systems into its robots.
Canadian AMR manufacturer uses inductive charging technology
As one of Canada's leading AMR producers, Noovelia develops automated floor conveyors which allow users to dramatically improve their production flow – without excessive investments. The robots are available either as a platform or in a forklift variant. The intelligent driverless transport vehicles adapt perfectly to their current production environment and move intelligently and autonomously. The AMRs take over tasks that add little value so that employees can carry out more productive activities.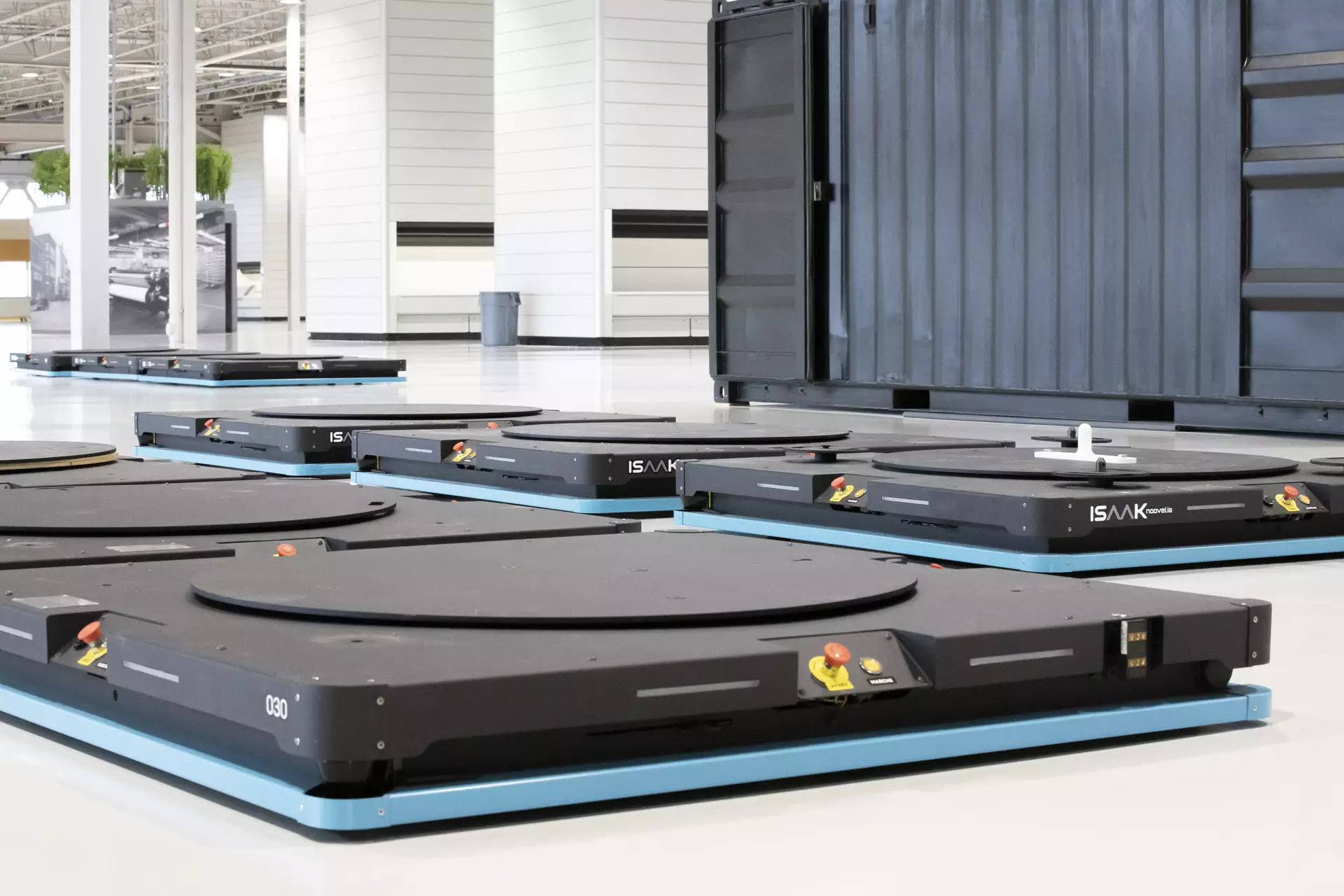 Noovelia offers a easy way of automation
Against the background of skilled worker shortages, Noovelia thus offers a way of automating intralogistic transport tasks that is easy to implement. The OEM helps companies to increase their productivity. The robots minimize the risk of errors and product damage by carrying out repetitive activities with the same level of precision each time.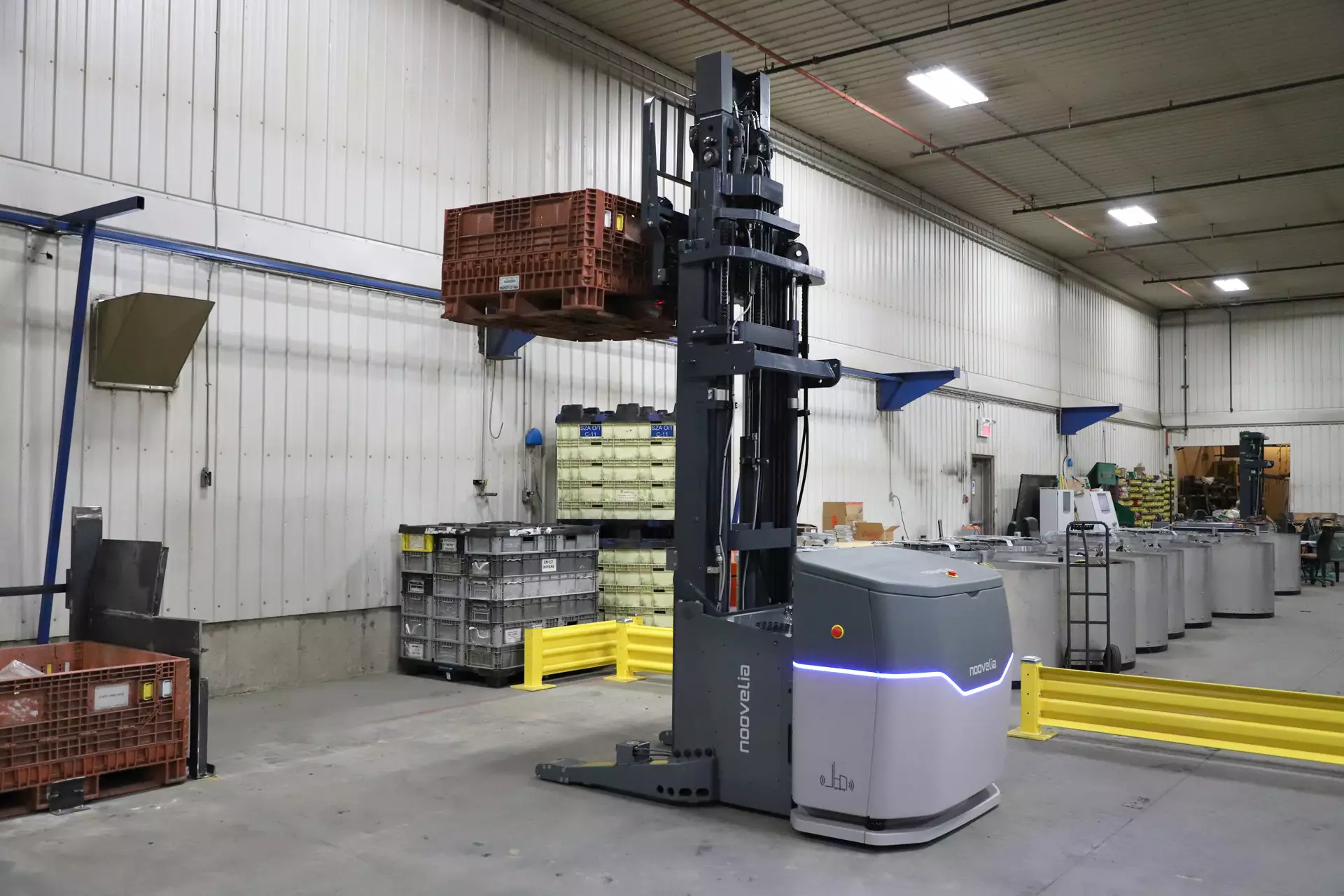 Power supply crucial for customer success
Noovelia charges its platform and forklift models using Wiferion's inductive charging system. "Vehicle availability is crucial for our customers", says Martin Branchaud, head of purchasing at Noovelia. Ideally, the robots are intended to carry out their tasks on a 24/7 basis. To achieve this, the power supply to the batteries is a crucial factor for AMR availability. Traditional charging systems with plug-in or sliding contacts were therefore not an option that was in keeping with the times.
The power supply to the batteries is a crucial factor
"We cannot accept that the vehicles remain stationary during charging. It was therefore clear to us from the start that we would choose Wiferion as the market leader in the field of inductive point charging systems," says Martin Branchaud. A central advantage for AMR producers is the flexibility of the etaLINK fast charging system. The charging points can be positioned at almost any frequently used point in the warehouse. Once a robot has moved to a charging point, the power transfer starts automatically, so that it is charging at full power of 3 kW after just a second. "We charge during the process. In this way, we eliminate charging breaks and unproductive travel times to stationary charging stations and improve the productivity of our AMRs by up to 32%."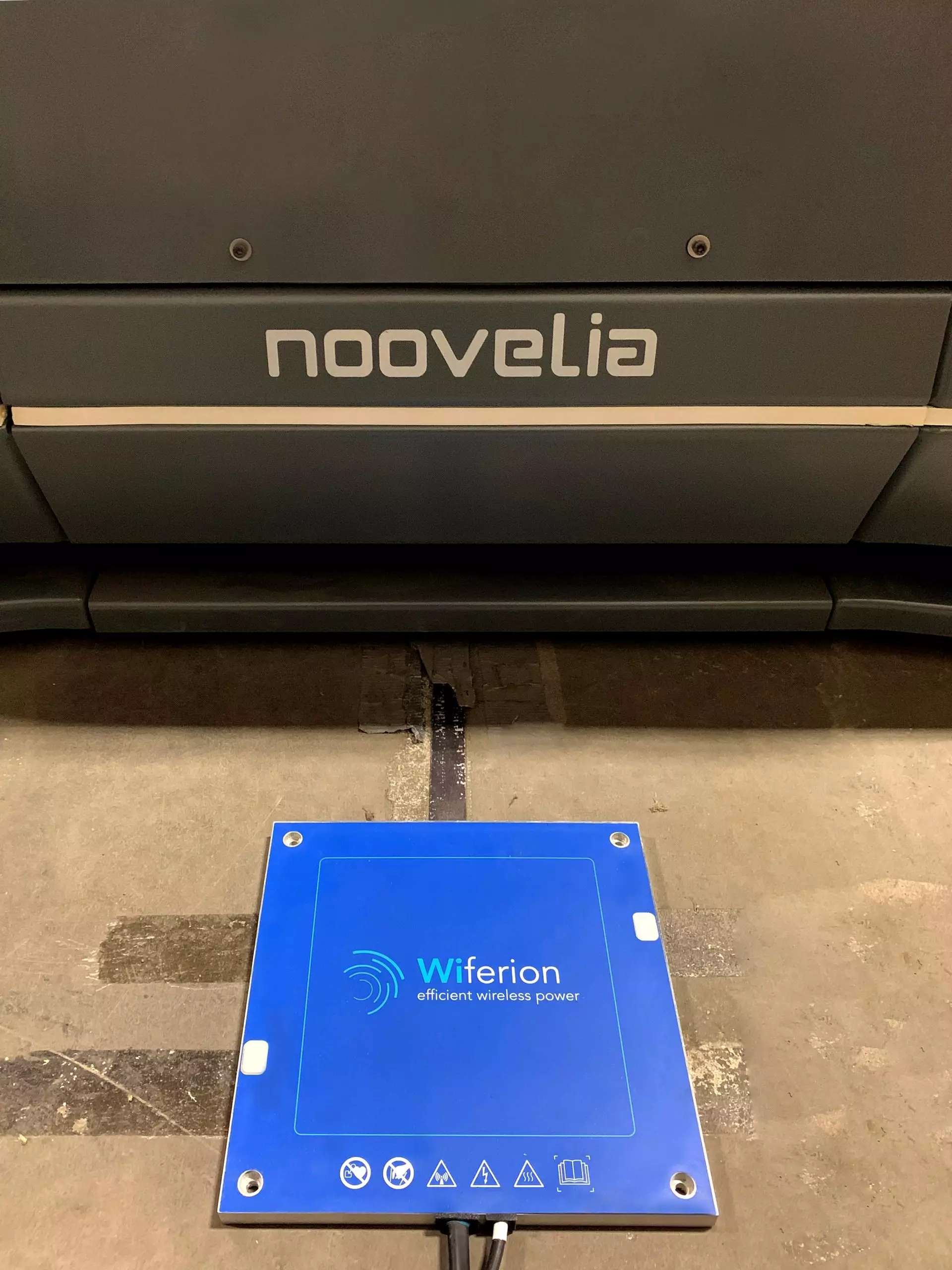 Advantage for AMR producers
A further criterion for Noovelia was the robustness of the system. "Our robots are characterized by outstanding reliability. High-maintenance technologies are therefore an absolute no-go for us", explains the purchasing director. etaLINK, on the other hand, is an encapsulated system. It has no mechanical components and is thus 100% maintenance-free.
"We charge during the process. In this way, we eliminate charging breaks and unproductive travel times to stationary charging stations and improve the productivity of our AMRs by up to 32%."
AMR ensure maximum productivity.
Thanks to Wiferion's charging systems, Noovelia is able to offer its customers AMRs that ensure maximum productivity and AMR availability. Because of the high level of reliability and robust processes, failure of the power supply to the AMRs is practically impossible.
Wireless Charging as Key Technology
Noovelia is the result of the merger in 2019 of Epsilia, Divel and Pluritag and is headquartered in Louiseville, Quebec, Canada. The company enables its customers to comprehensively automate their intralogistics processes. This includes planning, building, implementing and supporting efficient automation and traceability systems.
Automation process much easier to plan and transparent
In addition to the production and stock management software, the product portfolio includes tracking systems (RFID) and autonomous mobile robots. With this combination, Noovelia enables users to manage their data, stocks, sales centers and production plants intelligently through the interoperability of automated systems. The AMR manufacturer's customers include Canadel and Annexair.
For more information about contactless inductive charging and availability for AMR, please contact us: