More efficiency, more transparency and error-free delivery – with its Warehouse Execution System (WES), IdentPro has developed a digital twin in real time for intralogistics processes. The software localizes and identifies goods using movement tracing of manual and automated floor conveyor vehicles (FCVs). The solutions package offered by the optimization specialists also includes autonomous mobile robots (AMRs). To guarantee 24/7 availability of the vehicles, IdentPro relies on Wiferion's inductive charging systems.
Digital Twin in the Warehouse – in Real Time
Streaming and speeding up intralogistics processes and making them more transparent – this is what IdentPro is known for. With its Warehouse Execution System, the technology company from Troisdorf enables warehouses to be efficiently automated. The software solution automates the time-consuming process of identifying transport goods and storage spaces plus monitoring the fulfilling of transport orders.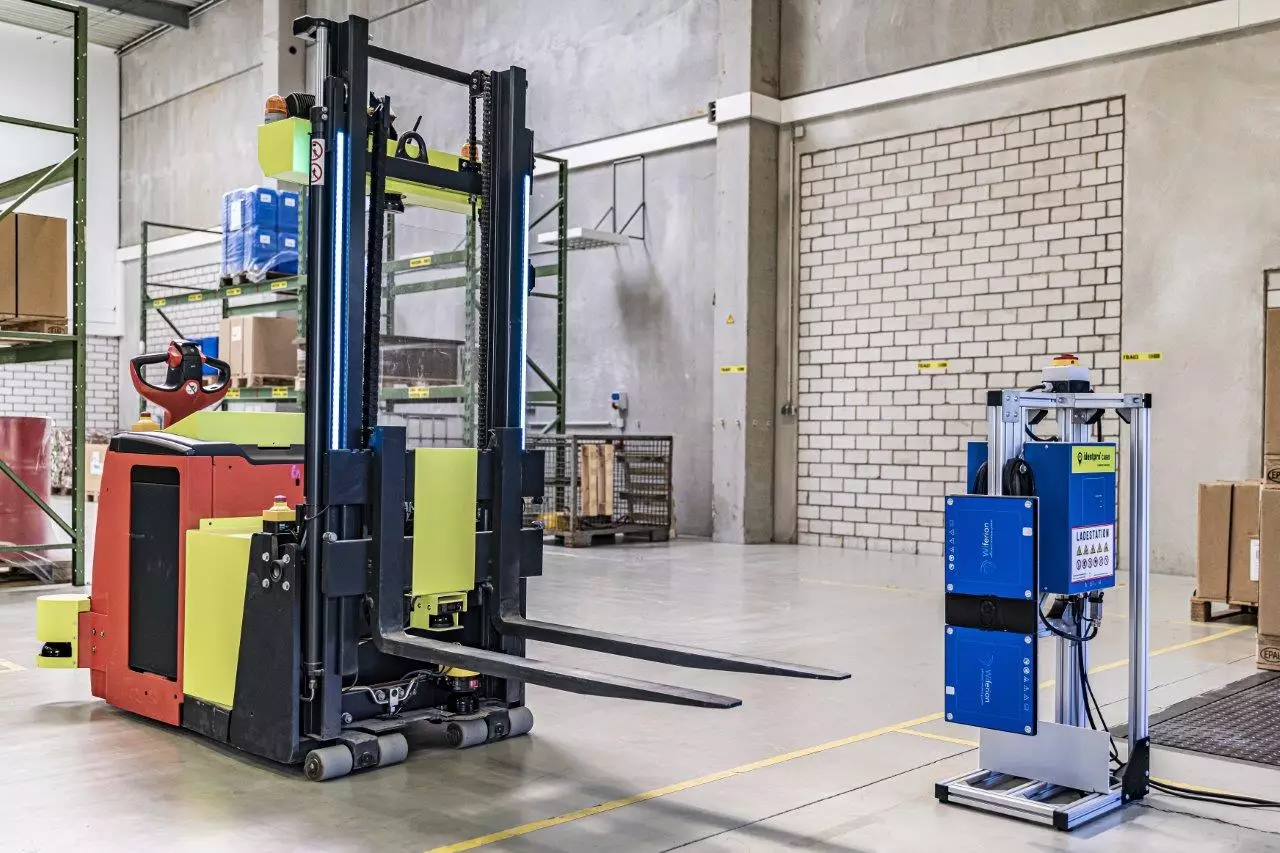 "In many warehouses, the warehouse software and the relevant transports are compared by scanning barcodes or other manual processes", says Christina Littau, Marketing Manager at IdentPro. "The manual process is susceptible to errors and so far it has not been possible to digitize and evaluate the transport movements."
The result: The goods availability mapped in the WMS or ERP system often does not reflect the actual situation. Staff have to look for items that are not at the storage locations given by the warehouse software because there are mistakes in the barcode scans or the scans have been forgotten.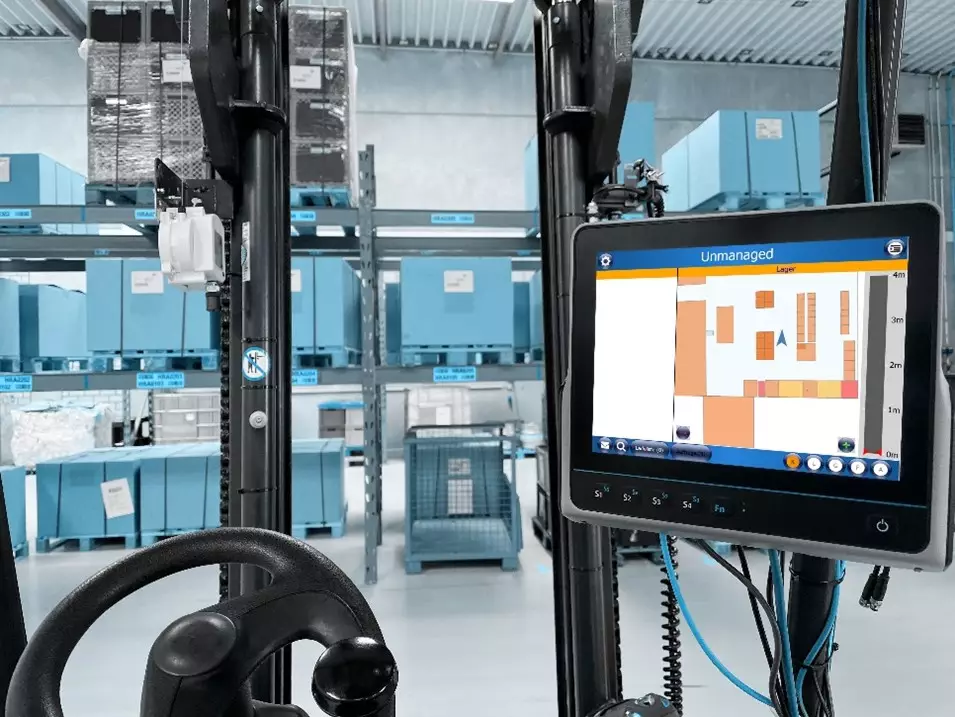 Digital twin provides an overview
This is where IdentPro comes into play with its Warehouse Execution System. The software allows all warehouse movements to be evaluated and controlled transparently and digitally – in real time. To achieve this, IdentPro fits forklifts with an IoT kit. Existing forklift fleets can thus easily be digitized. The retrofitted forklifts not only localize themselves, they also track all relevant objects and movements in the warehouse. And it does not matter where the drop-off location is. Goods that have been notified by the system are automatically identified using laser localization.
Exact location of goods without time-consuming barcode scanning
Alongside the stand-alone version, the WES can also be connected to a warehouse management system and the precise location of the goods can be transmitted – without any time-consuming barcode scans. In this way, WES creates a digital twin of the warehouse. This allows users to see at a glance, in real time, where all the goods and forklifts are or where they are moving to. This produces a level of storage transparency that has been impossible to reach to date. By linking up to a WMS or ERP system, the stock data always reflects the actual storage system 100%.
No more empty runs
IdentPro is also able to send back existing transport orders including navigation to the vehicles.
"Because we can bundle together and evaluate all the storage data, we can improve the efficiency of all sorts of processes. This also includes fleet navigation", explains Christina Littau.
AMRs increase productivity further
The Warehouse Execution System determines, for each vehicle, the best travel route and distributes the orders in such a way that there are no empty runs. The forklift drivers are provided with all the relevant information on a display terminal and only need to follow the travel instructions. Because non-value-creating tasks, such as scanning the barcodes or looking for goods, are no longer required and an efficient workflow is ensured, productivity rises by up to 30%.
Along with the integration of manual vehicles, IdentPro also offers customers the option of integrating autonomous collaborative transport robots into the Warehouse Execution System. Thus, for the first time, routine optimization has become possible for driver-operated and driverless vehicles in one software. Further advantages can be gained by combining manual and autonomous vehicles. At the moment, AMRs are not yet able to carry out all intralogistics tasks. A collaborative approach is therefore ideal for exploiting the full potential of the warehouse.
"Thanks to our digital twin algorithms, we can make best use of mixed fleets of manual and autonomous vehicles", says Marius Hoffmann, Senior Developer, R&D Robotics. "Our AMRs are an optional component of the WES through which the degree of automation and efficiency can be further increased."
Extremely reliable thanks to inductive charging technology
The automated supply of power is crucially important in guaranteeing its customers 24/7 availability of the AMRs. "In further developing our AMRs, it was important for us to have a reliable charging system. We weren't sure about traditional charging technologies with sliding contacts", recalls Marius Hoffmann. Wearing of the charging contacts proved to be a major drawback. In addition, there was the fact that, for reliable charging, the large automated forklifts needed to be precisely positioned. This increased the error rate. Even short-circuiting would have been possible. "We therefore quickly realized that our only option was an inductive charging system. As the market leader, Wiferion totally convinced us."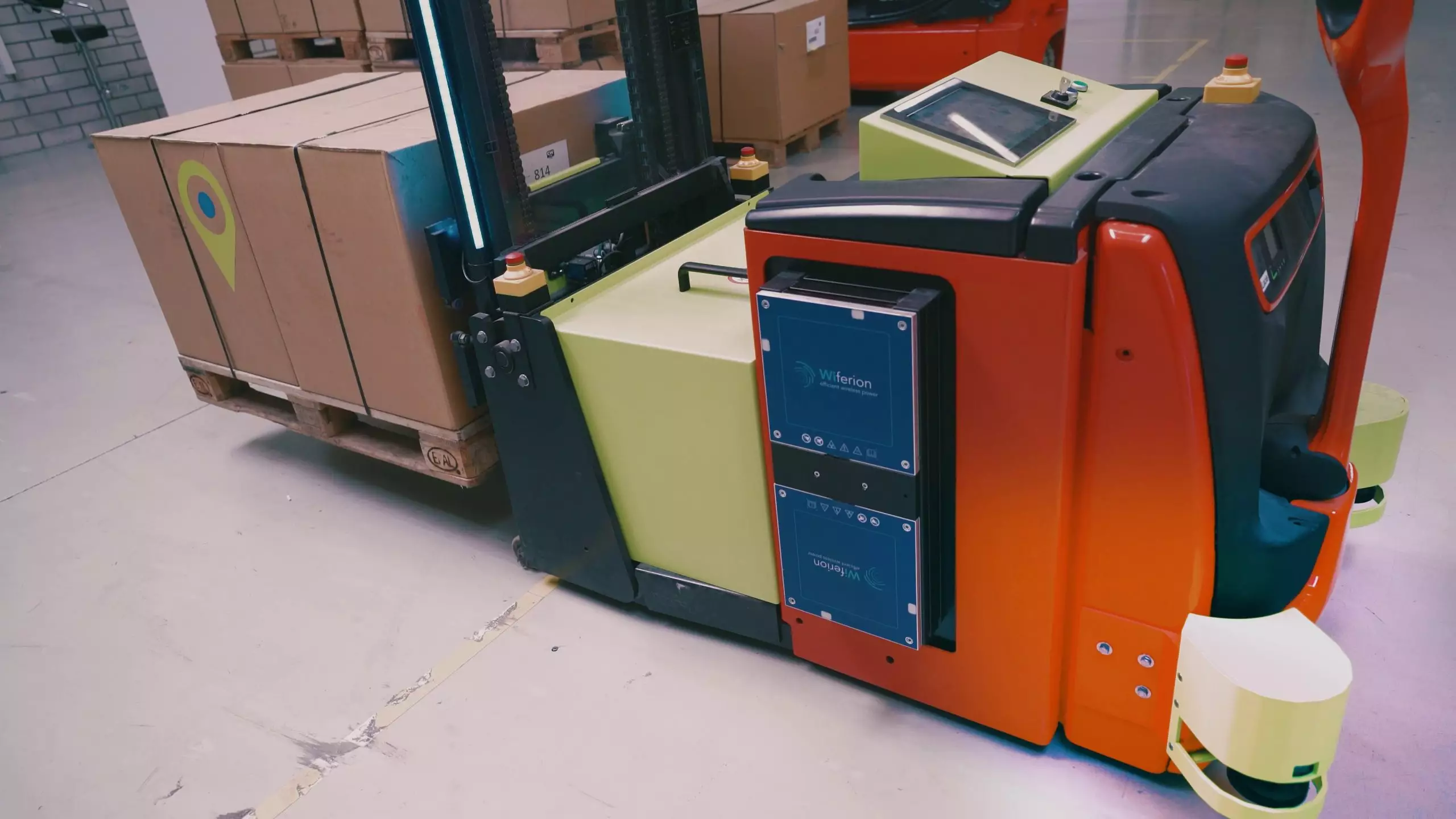 Charge the AMRs quickly in process and thus to ensure 24/7 availability
The etaLINK 3000 rapid battery charging system is integrated in the vehicles. Wiferion's inductive charging technology makes it possible to charge the AMRs with digital twin quickly in process and thus to ensure 24/7 availability. "We position the charging points where the vehicles have to stop anyway, e.g. at the loading and unloading positions", explains Marius Hoffmann. "In this way, we eliminate interruptions for charging and travel time to stationary charging stations and increase the productivity of our AMRs by up to 32%." When a robot travels to a charging point, the transfer of power starts automatically, transferring power at a full capacity of 3 kW after just one second. Because of the high positioning tolerance, the charging process also starts reliably if a vehicle does not stop absolutely exactly at a charging plate. In addition, the charging process can be designed flexibly, as the charging points can be approached from any direction.
Maintenance-free and easy to implement
IdentPro does not need to worry about maintaining the power supply. etaLINK is an enclosed system without mechanical components, and thus 100% maintenance-free. The simple integration of the charging system into the AMR is another plus point for Marius Hoffmann. "In contrast to sliding contacts, the etaLINK system is very compact, which means that we have more room in the vehicle for other components." In addition, the charging plate can be attached flexibly to the device and does not necessarily need to be positioned on the vehicle underside. Because the charging device is already ready-wired as a plug-and-play solution, it can be precisely fitted into the autonomous forklifts. "That saves us a massive amount of time."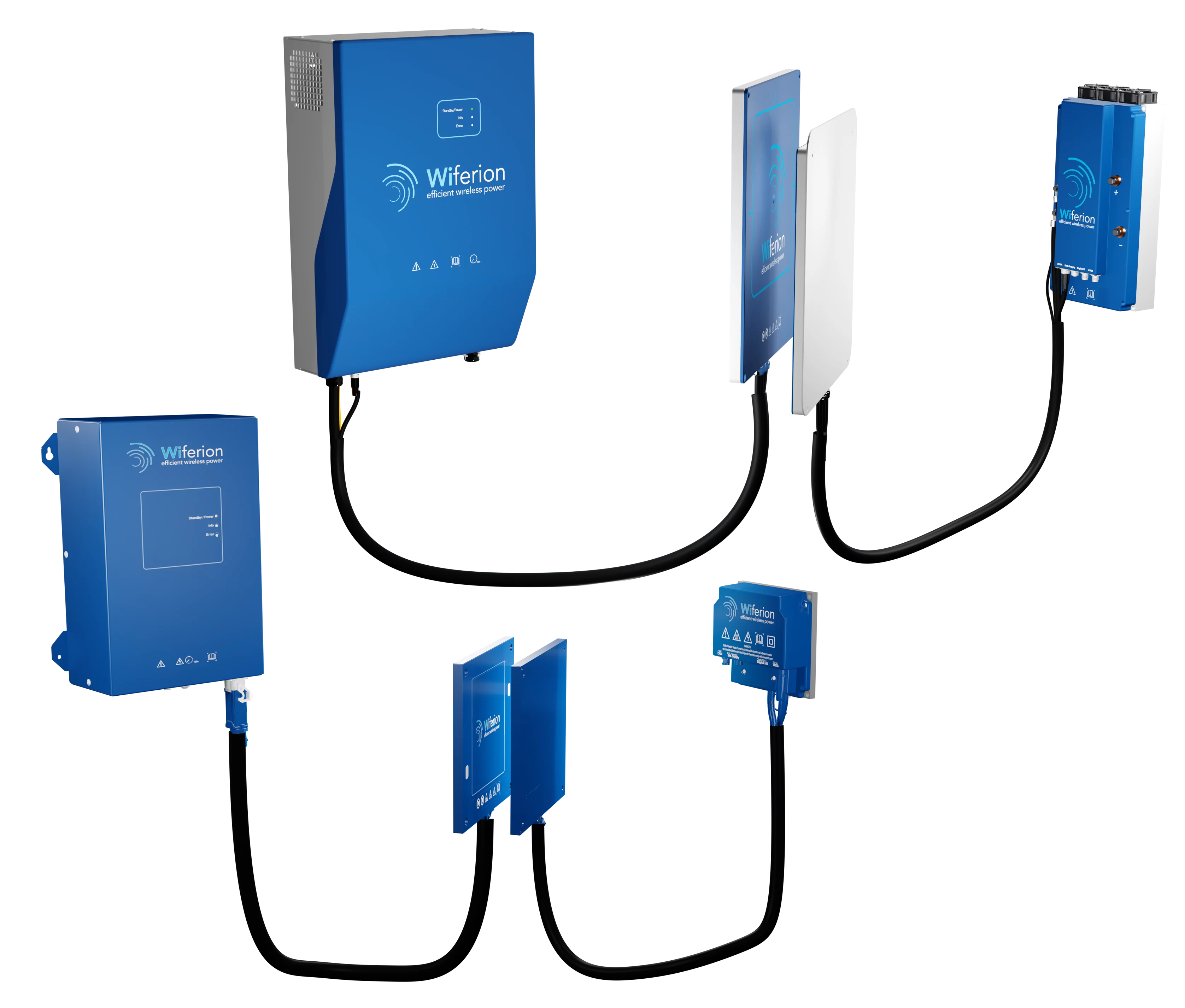 Summary
For IdentPro, Wiferion is an important development partner for its autonomous mobile robots. Implementation is simple and reliability is high. Customers benefit from maximum vehicle availability. "We recognize the major advantages of Wiferion by the fact that we have no problems with the power supply and no longer have to bother actively about these components", summarizes Marius Hoffmann.
For more information about contactless inductive charging and digital twin for AMR, please contact us: