Future of Intralogistics
#FoID #futureofintralogistics #FoID2023
Call for Speakers 2023 now open!
The Future of Intralogistics is coming to Europe, designed exclusively for experienced people in B2B intralogistics. We don't spend time on the basics! All sessions are free fast-paced with 20 minutes length, Q&A-packed, always informative. This is your place to learn everything new and future trends in intralogistics, such as warehouses, e-commerce and production to give your team inspiration and fresh ideas for the new year. The event is held in English.
Advanced
Intimate
Focused
View Recordings
Please accept cookies to make the streams available
Day One
Day Two
What can you expect at the Future of Intralogistics Days 2022?
Here are some of our intralogistics experts
and our hosts
Day One: Next Gen Mobile Robotics
9th March
Please press on the titles to get more information. The detailed times will be shown at registration.
Day Two: Next Gen Intralogistics
10th March
Please press on the titles to get more information. The detailed times will be shown at registration
Process analyses of the future - With Motion-Mining to Data Gold
Sascha Feldhorst – CEO
How do process analyses work in times of digitalization? Advantages of automated process analysis. Example Use Cases.
Startup from Dortmund which has developed the Motion-Mining technology for the automatic analysis of manual work processes with the help of sensor technology and Machine Learning.
Mobile robotics in intralogistics - from the first robot to full-scale expansion
Victor Splittgerber, CEO & Co-Founder
Victor Splittgerber will present a practical guideline for mobile robotics in intralogistics – from the first robot to full-scale expansion.
WAKU Robotics facilitates the access to mobile robots by a unique combination of digital solutions for the selection, planning and procurement of the optimal robot solution.
Industrial smart watch in intralogistic
Andreas Funkenhauser, CEO of NIMMSTA
We present how the NIMMSTA Freehand Workflows are revolutionizing intralogistics
and generate an increase in efficiency of up to 40%.
– NIMMSTA presents itself and its innovative HS 50 back-of-hand scanner.
– Live demonstration of how the HS 50 can be quickly and easily integrated into an existing
merchandise management system.
– We will show how the touch display of the HS 50 can be configured easily and
can be configured individually.
Logistic Startup from Munich. We developed the first Smart Watch for the intralogistics.
Energy efficiency in AGVs with optimization of current BMS and new charging systems
Özkan Öztürk & Michael Kehl
The integration of AGVs in the Digital Factory enables high flexibility in the workflow. Wiferion offers an approach to provide efficient AGV solutions. This includes the coupling to the control system and the evaluation of relevant status information. Experience how the optimal integration of AGVs can succeed and how it looks in practice.
Logistics in Smart Focus, translating Big Data generated by the wearables into Smart Data for continuous process improvement
Carsten Funke, CSO Picavi GmbH, CEO Picavi Inc.
We will present the feature analytics to show the different benefits of translating Big Data into Smart data.
In addition to that will show our recent installation in the autostore warehouse and the benefits the picavi
solution provides in an automated warehouse. We will introduce a new hardware product which will be
available in March 2022 and would like to give a sneak peek into the instore picking solution by Picavi.
Picavi GmbH is a full-service provider with a 100 percent dedication of its intralogistics and wearable expertise to
Pick-by-Vision solutions
One cell fit all - modular & software driven conveying technology
Dr. Hendrik Thamer, CEO and Co-Founder
Flexibility, performance and adaptability are the core requirements for the material handling systems of the future. The volume of packages to be conveyed is increasing and the space for new logistics centers is finite. For this reason, we need a technological leap. We would like to talk about disruptive solution based on technological progress. Our celluveyor (cellular conveyor) is based on hexagonal robotic cells, which can be assembled in an infinitely scalable way by intelligent software to perform complex conveying movements in a very small area. For this reason we speak of "softwarebased conveying". The idea is based on upside down football robots. One cell does not move one package – many cells can move mountains. Interested – join in?
cellumation develops and builds intelligent modular technologies for automated material flow on a very small footprint.
Autonomous Solutions For Next Level Digital Logistics
Why optimizing intralogistics doesn't start in the warehouse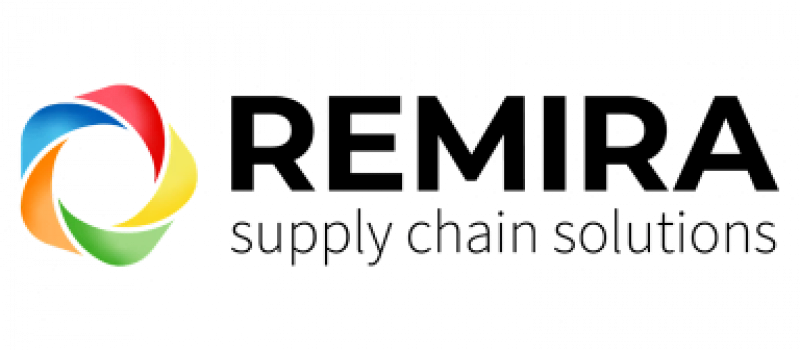 Marek Matuszewski, CSO at REMIRA Group GmbH
Nowadays, amazing processes in intralogistics are necessary to increase efficiency. The focus is often set on picking processes, replenishment and storage processes. To be honest, intralogistics eliminates the chaos that was created in sales, but above all in procurement. So why don't you start the intralogistics optimization before the goods arrive at the warehouse?
REMIRA is one of the leading providers of intelligent supply chain and unified commerce solutions for retail, logistics and industrial companies in all sectors. With 500 employees and annual sales of around 50 million, the company is one of the largest software companies headquartered in Germany. REMIRA has made it their mission to promote the technological progress of their customers with AI-supported cloud solutions and thus increase their economic success. Whether SME or large corporation – REMIRA supports its customers in the areas of planning, purchasing, manufacturing, transportation, warehousing and commerce across the entire supply chain and beyond. The company currently serves around 8,000 customers worldwide. REMIRA is headquartered in Dortmund, Germany. In addition, there are 20 locations worldwide – eight of them in Germany and ten in Europe.
#FoID2022 #futureofintralogistics